SO Promoted - Meet Management Consultant, Marie Julian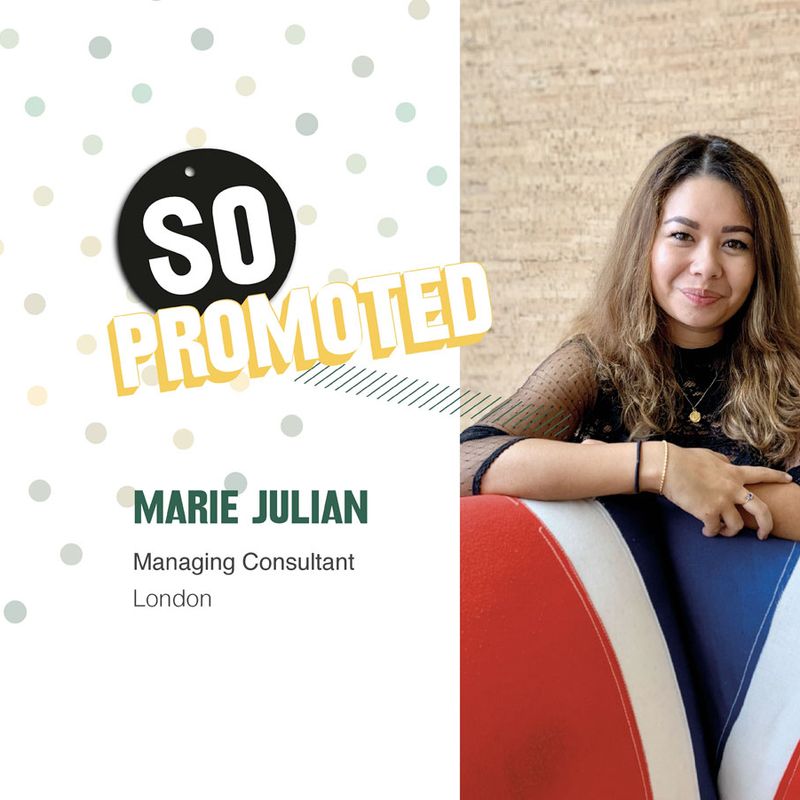 ​
Marie Julian talks about how she achieved her recent promotion, and offers advice to graduates who are considering a career in recruitment.

What initially attracted you to recruitment and why did you choose to work at SO?

Prior to SO, I was working as a sales assistant at Selfridges. This experience allowed me to explore recruitment jobs as many of the skills are transferable. I liked that the recruitment environment is autonomous and that you are in control of your earnings – the more you put in, the more you get out.

Joining the industry with no recruitment experience, I was particularly interested in the fact that they had an award-winning graduate academy.

When did you start working at SO?

I started my career at SO about 3 years ago and was taught all basics of recruitment during my graduate academy. I have been on the Power Contract London team since I joined.

How did you achieve the recent promotion to management consultant?

Since working at SO, I have always focused and consistently achieved my targets. I set myself personal deadlines on when I wanted to achieve my promotions and I proactively reviewed these with my manager to make sure they were achieved. As a result, I achieved three promotions in 12 months.

What is your advice to consultants that are looking to take the next step in their career?

In order to take the next step, you need to ensure that you are consistently monitoring your progress to ensure that you are meeting your goals. The Learning & Development team and your manager will support you but you need to be the driving force for your own progression.

How has your manager helped you achieve this promotion?

Throughout my time at SO there has been points where I have struggled and my manager has supported me through those situations to help me find the best solution.

He also helped to create a tracking method so I am always able to measure my performance and has guided me through the SO career framework.

What training has SO offered you to support your personal growth to date?

As I joined SO as a graduate, I completed the Academy and since then I have gone on to do other training such as advanced sales training and maximising mentoring.

I have now been given the opportunity to run my own sales training for the rookies. Currently I am giving sessions on Bullhorn.

Recruitment has its challenges - how do you stay motivated?

I have encountered several ups and downs but it is important that I manage my own expectations and am aware of that there will be challenges. Knowing that I am going to be rewarded for my hard work helps stay motivated through the challenges – like the trip to Cancun I went on in March!

The mentoring scheme at SO helps me stayed motivated as I enjoy seeing my mentees doing well and achieving their goals.

What advice would you give a graduate considering a career in recruitment?

The recruitment environment is high pressured but it is really rewarding. If you stick with it, you will end up benefiting and reaping the monetary rewards as well as experiencing once in a lifetime trips.

If you are interested in recruitment and would like to work for an award-winning company such as Spencer Ogden, we would like to hear from you. Apply to one of our live vacancies below today.
​
​