SO Promoted - Meet Senior Consultant, Stefanie Fahey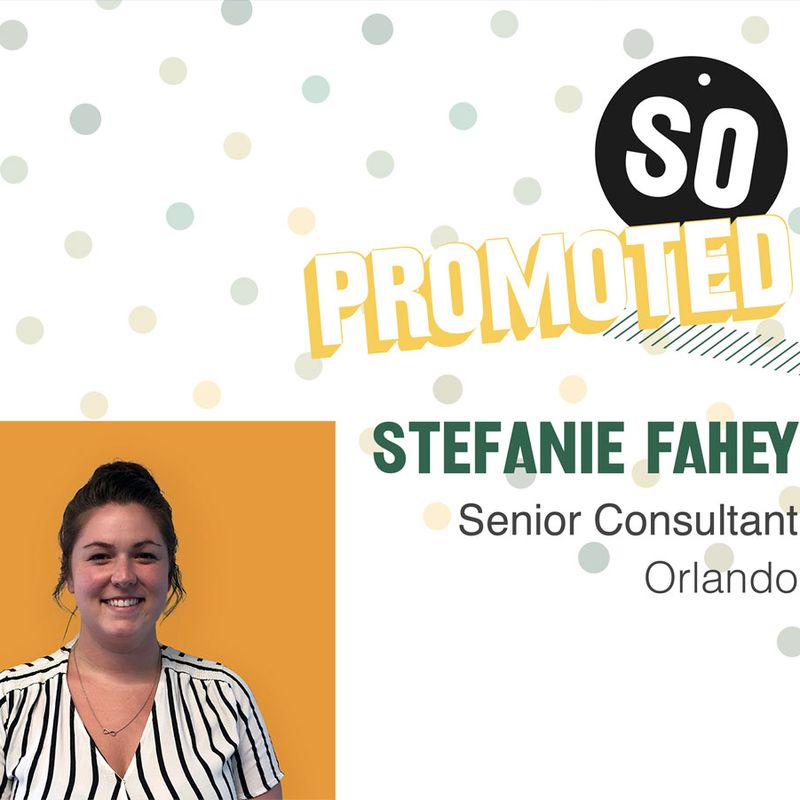 ​What initially attracted you to recruitment and why did you choose to work at SO?

After graduating from college, I wanted to pursue a career in sales that involved people. Daily I wanted to speak to a variety of people and a job where no two days are the same. I had a friend that worked for a recruitment company, she shared her experiences with me and how each desk is really your own business – the harder you work, the more money you make. Why would anyone turn that away?

When I joined SO, the Orlando office was in its infancy but the manager at the time spoke about the journey the office was on but about the growth journey of the company. Spencer Ogden was really going to make a difference in the industry. It was great finishing university and working in an autonomous environment, being part of an office's growth journey.

When did you start working at SO?
I joined Spencer Ogden in August 2016 as a graduate.

How did you achieve the recent promotion to Senior Consultant? What is your advice to consultants that are looking to take the next step in their career?
In order to be promoted to Senior Consultant, I had a goal to increase our contractor book and keep my billings over a certain %. I had a particular focus on our key accounts and developing the current relationships we have to expand into other areas.

For consultants that are looking to take their next step in their career, my advice would be to full speed ahead. Don't be scared to push yourself out of your comfort zone and think outside the box. Eleanor Roosevelt once said, "do one think every day that scares you".
How has your manager helped you achieve this promotion?
Stuart is very helpful, he reminds us regularly about the basics and how important it is to analyse data to find gaps that we may have missed.
He takes interest in each individual person, and uses their motivations to make sure that they are always performing their best. During my three years at Spencer Ogden, Stuart and consistently showed me a lot of support!
What training has SO offered you to support your personal growth to date?
I joined straight from college as a graduate, joining the SO Academy which set me up to run a successful desk. Training didn't stop there, I have also been through their Emerging Leaders and High Performing Contract training programmes.
Recruitment has its challenges - how do you stay motivated?
No two days are the same in recruitment, giving you the opportunity to start afresh every day. It really is running your own business with the support of an actual business.
The work you put in each day will be rewarded down the road. I remind myself that if today was a bad day, tomorrow is a new day to start again and make a change!
What advice would you give a graduate considering a career in recruitment?
If you are ambitious, motivated and not easily defeated then recruitment is for you! It will challenge you every day and if you are consistent you will be rewarded.