SO Promoted - Meet Senior Consultant, Laurence Carson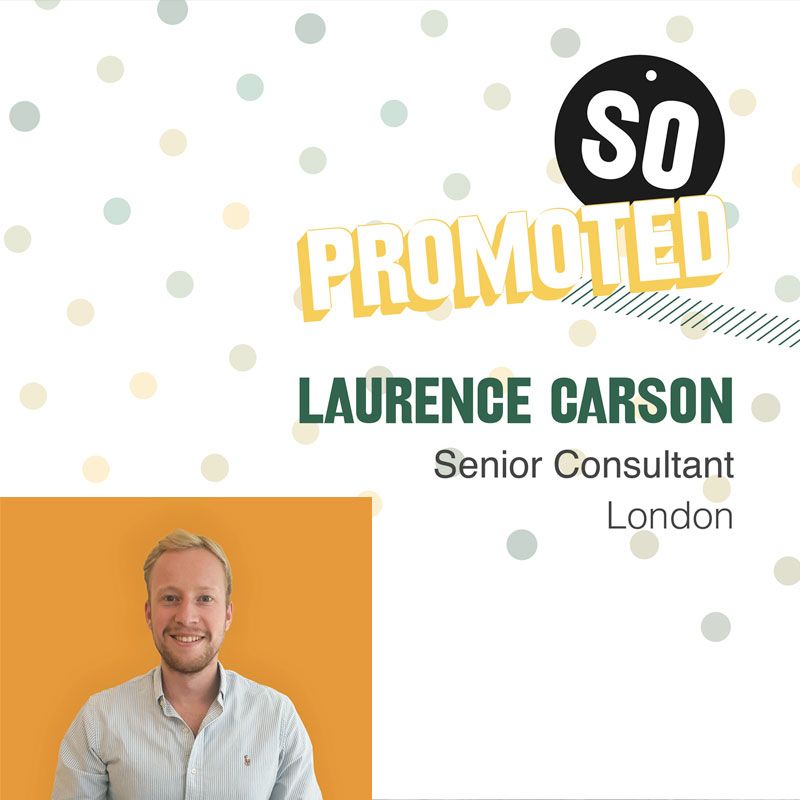 ​What initially attracted you to recruitment?
I've always had people/client facing positions during my previous jobs and I wanted to carry this forward for my next career. Plus, the idea of being paid commission sounded incredible to me.

Why did you choose to work at SO?
Compared to other recruitment companies I've seen, Spencer Ogden clearly had a different way of doing things and a much more exciting culture around it which really attracted me as the right place to start my recruitment career.

When did you start working at SO?
April 2018, fresh out of a pub manager job where the tips just weren't good enough.

How did you achieve the recent promotion to senior consultant?
I hit my rolling billings target set up as part of my career pathway to management level within Spencer Ogden.

What is your advice to consultants that are looking to take the next step in their career?
Enjoy the good days, accept there will be bad days and learn as much as you can from both.

How has your manager helped you achieve this promotion?
My manager has given me support towards this promotion throughout my time at Spencer Ogden. They've done this by helping me to produce development plans and goals, they've given me greater responsibility within the team and have allowed me grow as an individual as I've progressed within this business.

What training has SO offered you to support your personal growth to date?
SO's L&D and management have offered constant innovative support and learning tools throughout my career at SO. Offering group academies, one to one training and advanced sessions that have been pivotal for me to achieve my recent promotion.

Recruitment has its challenges - how do you stay motivated?
Apart from the commission. Fitness and wellbeing is a key part of staying motivated in this job, and Spencer Ogden's discounted gym packages definitely help towards this.

What advice would you give a graduate considering a career in recruitment?
If you genuinely possess perseverance, tenacity and the need to succeed then recruitment is the job for you!