Celebrating International Women's Day 2021 - A discussion with Hannah Badrei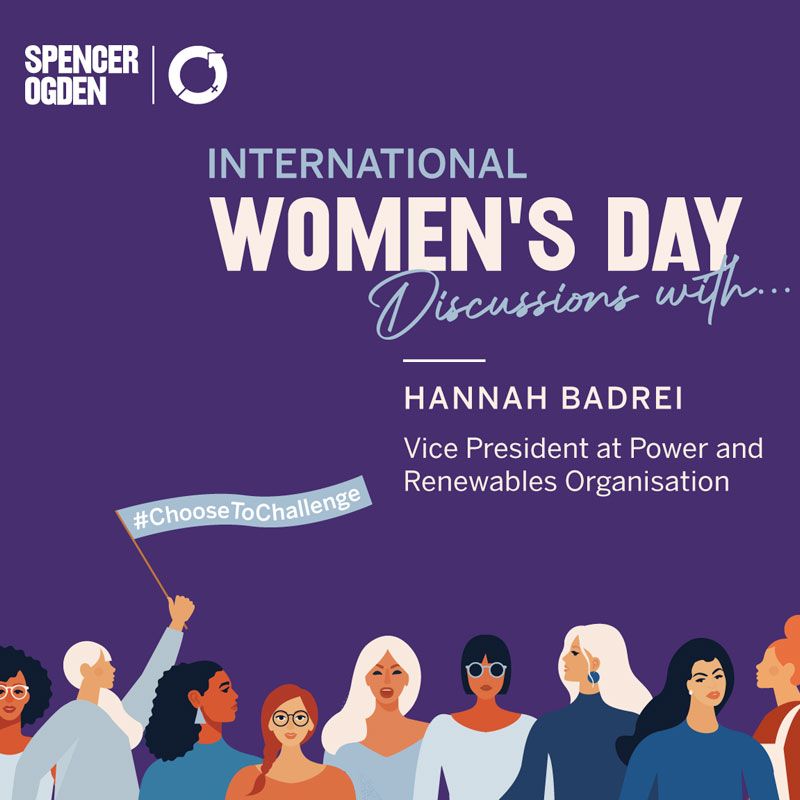 ​To celebrate International Women's Day, Spencer Ogden is celebrating and promoting the contribution of female talent in the energy sector, sharing their advice on creating a more equal and fair industry for the future. Hannah Badrei, Ph.D. is a vice president at a power and renewables organisation whilst also being a chairwoman at non-profit, Women of Renewable Industries and Sustainable Energy (WRISE). Read Hannah's spotlight interview.

This year's International Women's Day theme is 'Choose to Challenge'. A challenged world is an alert world, and from challenge what comes change. What does the International Women's Day slogan #ChoosetoChallenge mean for you in your work life?
One quote that has always resonated with me is from the late Supreme Court Justice, Ruth Bader Ginsburg, "women belong in all places where decisions are being made."
The impact of the ongoing pandemic has been detrimental to working mothers. We have seen many having to step back and quit their jobs or go part-time (if their employers offer such flexibility), which is a step backwards in trying to fight for gender parity and women in the boardroom.
So for me, the challenge is to remember Justice Ginsburg's statement and ensure that we are and remain in the places where decisions are being made.
Why did you choose a career in Power & Renewable Energy and choose to get involved with the WRISE organization?
Currently, we are experiencing significant impacts related to climate change. It is affecting us all by disrupting our economies, our lives, and costing us dearly. We must all do whatever we can, within our means, to combat climate change.
It is real and impacts us on a personal level. In the summer of 2020, we witnessed the most devastating wildfires in California and the worst air quality in the west coast. And in Houston, where I currently reside, we had two named hurricanes simultaneously forming in the Gulf of Mexico. Six months later, we experienced sub-freezing temperature that led to snow, electricity blackouts, water loss, and deaths in one of the largest cities in the US.
I have been in the power and renewables space for 17 years and am a passionate believer that renewables is our future. Many companies and organisations have established Greenhouse Gas (GHG) reduction targets and renewable energy goals. However, the procurement strategies remain complex and risky and not every company has the internal means and risk appetite to engage.
My role is to strategise and create renewable energy solutions that are simplified, accessible, and cost-effective to allow many companies to procure renewable energy.
You have managed a team of only men, have you found it challenging?
Yes, there are challenges. Over the years I found, as a woman managing teams of men, that I have been questioned on all fronts due to my gender – Have you accomplished enough? Are you being too assertive? Are you being too nice?
I have come to realise that as a successful leader, you cannot be distracted by the external negative biases that people project onto you and must remain true to your vision and leadership style. Lead with empathy, creativity, and flexibility.
In your opinion, why is it important that more women take up opportunities in renewable energy in the near future?
Women need to take up opportunities in renewables because it is our future. We all need to play our part in combatting climate change and renewable energy is an immediate solution to reducing GHG emissions. Additionally, renewable energy is fast becoming the most cost-effective source of energy, on par or less expensive than fossil fuel generation, so it is here to stay.
Lastly, women bring a different perspective. Women bring a creative outlook and a unique approach to problem solving. They need and deserve to have a seat at the table, particularly on company boards.
What is the most important piece of advice you'd give to a woman thinking of starting a career in renewable energy?
I serve as the co-chair of the Houston Chapter of WRISE - Women of Renewable Industries and Sustainable Energy. It is a wonderful organisation dedicated to promoting the education, professional development, and advancement of women in the renewable industries/sustainable energy sector. In this capacity, I interact with my women thinking of starting a career or pivoting to renewable energy. My advice to these women is to:


​
Continue learning and be confident in your knowledge.

Volunteer and be engaged with industry non-profit organizations that support women in renewables and sustainability such as WRISE.

Seek out a mentor. In addition to WRISE National 1-on-1 mentoring program, our Houston chapter has organized several minute mentoring events that have been a great success.
​
On International Women's Day, what is the most important message you want to send out to young women thinking about their careers?
Make sure you have a voice and have confidence in yourself. You will never know everything, at any age really, so be confident in your knowledge. Ask questions and be heard.