Celebrating International Women's Day 2021 – A discussion with Shazreen Meor Danial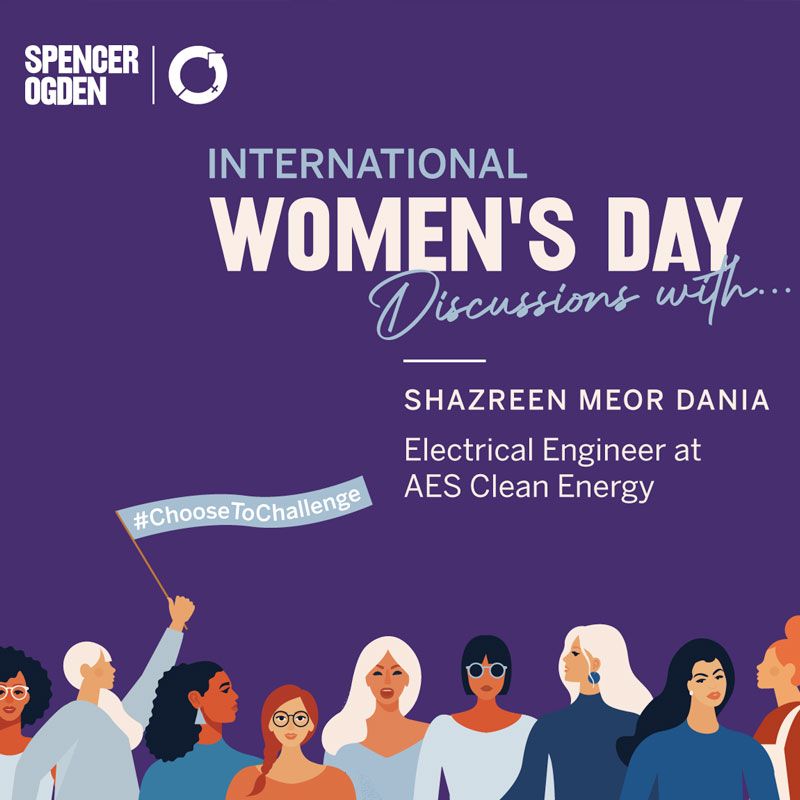 ​To celebrate International Women's Day, Spencer Ogden is celebrating and promoting the contribution of female talent in the energy sector, sharing their advice on creating a more equal and fair industry for the future. Shazreen is an Electrical Engineer at AES Clean Energy. Read Shazreen's spotlight interview.
This year's International Women's Day theme is 'Choose to Challenge'. A challenged world is an alert world, and from challenge what comes change. What does the International Women's Day slogan #ChoosetoChallenge mean for you in your work life?


Challenge is a start to opportunity, learning, advancement and betterment.
I have been in my current role for a year and when I started the job, I knew that I did not know everything I needed to do this job, but I had the foundation and the background to tackle it. I continue to be challenged but I am learning, applying my knowledge and experience and continue to grow and advance. I want to be an expert in what I am doing and want to bring value to the team. All of this is driven by choosing to challenge myself.
Why did you choose to become an electrical engineer?
It just so happens that I did not quite choose to become an electrical engineer. I grew up in Malaysia, and after graduating high school, Malaysia was challenged with an economic crisis. My parents had always aimed for their children to attend college and obtaining scholarship was an important means to do so, especially if I were to consider an overseas university.
So, I applied for a number of scholarships to study abroad, but with the economic crisis at the time, the college and subject of degree were determined for me. The scholarship sponsor was Malaysia's national power company, so I attended Rensselaer Polytechnic Institute and pursued their very reputable Electric Power Engineering program.
During the four years study (added another year for a master's program), I realised that electric power engineering is a "mature" field. Nothing was new, the electric grid had been around for a long time. I then found a specific topic within electric power that was "newer", power electronics.
I became very interested in power electronics, and through my professor, I found and completed a summer internship with a small company specialising in wind technology.
Following that, my career in renewable energy began – wind, fuel cell and solar.
In your opinion, why is it important that more women take up engineering roles in the near future?
Women bring different perspectives, ways of thinking and doing. Engineering will soon no longer be a 'special' field as it is becoming more popular, therefore it is important to have balance.
Balance is good for society, as well as the sector itself. Equality benefits both women and men.
What is the most important piece of advice you'd give to a woman thinking of starting a career in solar/engineering?
A career in solar/engineering is not only technically challenging, but it is also challenging from the social aspect.
Currently, male engineers still dominate the field and there is still gender imbalance in the presence of women, compensation, and opportunities. However, you should not let that discourage you, know your value. A woman can bring so many positive perspectives to the industry. With the challenges face, there is huge learning opportunities. Be open to the challenge and you will learn and continue to learn.
Do you think there is a stereotype attached to female engineers?
Yes, in a predominantly male environment it is seen that women do not speak enough to make their presence known or feel as comfortable to share their opinions. However, female engineers have the same grounds as male engineers to express opinions and share knowledge.
Working in the sector, I have learnt enough so that I no longer feel shy to speak up, ask questions and share my opinion in a room dominated by male engineers. I consider us as equals, and if anything differentiates us, it is the level of knowledge, expertise, and professionalism. I look up to both men and women with experience and knowledge, to learn from them. I do not let the stereotype affect me, as stereotypes may always exist.
On International Women's Day, what is the most important message you want to send out to young women thinking about their careers?
Always be open to learning. Be confident, but humble and know your value. You will make mistakes, but you will learn from them and build on them. These days, my motto is – "Be open to keep learning, but confident as you bring value to the table too."