SO Careers - Meet Recruitment Consultant, Elena Cardaci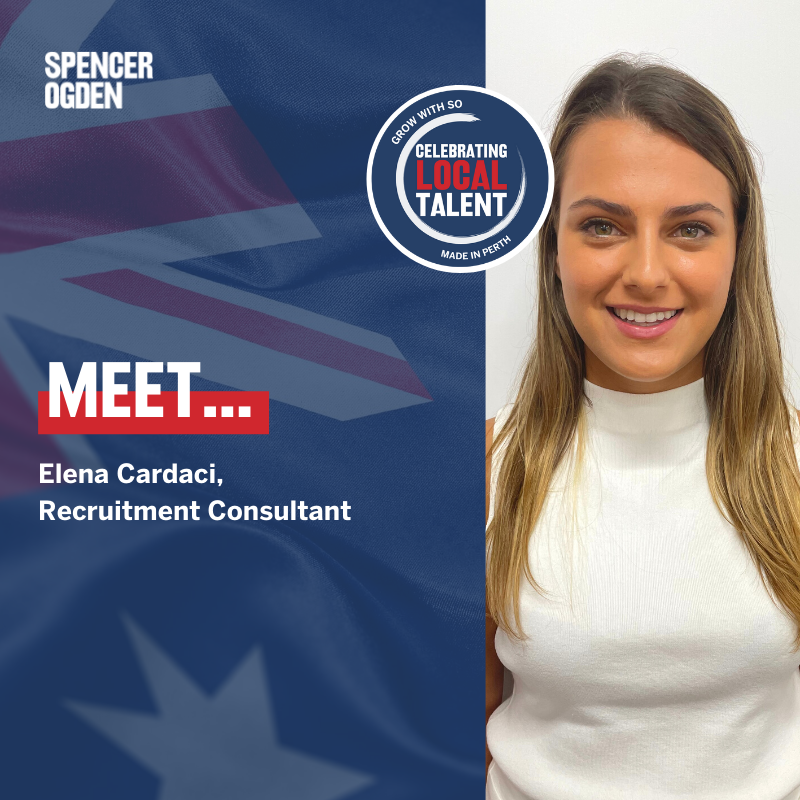 ​Meet Recruitment Consultant, Elena Cardaci from our Perth office. Elena started working at SO in April 2021 and was recently awarded the Rookie of the Year Award 2021. Keeping reading to learn about her SO journey and to find out what her top tips for someone considering a career in recruitment are.
What initially attracted you to recruitment and why did you choose to work at SO?
Coming from a Biomedical Science and Commerce double degree background, recruitment initially meant an internal HR function to me. Spencer Ogden made me realise that recruitment is so much more. Every day I am challenged and rewarded with the 360 nature of external recruitment. SO provides me with stimulating work, a fun and engaging work culture and excellent career development.
What does your typical day at SO look like?
Every day at SO is different. Some days I am on the phones, utilising different resources to connect with my network and on other days I'm out at meetings developing my connections and personal brand. With high-activity sales days, monthly Friday deal tunes and the opportunity to visit your clients on site; SO is like no other.
What is the most rewarding part of the job at SO?
I am rewarded everyday by developing new relationships with candidates and clients, each with their own backgrounds, capabilities and insights into the Mining sector here in Western Australia. Being able to learn from the people I talk to inspires me to be the best version of myself and strive to use my passion for recruitment to assist others with new opportunities. I also adore my team and love the fun I have on desk with them.
What are some of the challenges faced during your time at SO? How do you stay motivated?
Every day I am challenged with objections, long processes and fallouts. I find that it's important to take a step back to put things in perspective and see the bigger picture. When you do this, you realise, rollercoasters can be a super fun ride!
What training has SO offered you to support your personal growth to date?
Throughout your journey at SO you are provided with ongoing training to assist in your development, both as a recruiter and as a person. In my first 3 months, I was in a two-week Academy Training Program to advance my skills and build my confidence. Since then, with the support of my team and Country Director, we have established a clear development plan where measurable goals are set. I am challenged every day and use this as an opportunity to continue improving my knowledge and skills.
What are your top 3 tips for someone considering a career in recruitment?
Be open minded – the world of recruitment has so much to offer; with an open mindset, positive outlook and good energy, you will learn so much.

Be true to yourself – recruitment can be for everyone; introverts, extroverts, people persons, strategic-thinkers, etc. Every skill set and personality is unique; this will be your strength in recruitment that will make you shine.

Enjoy all the benefits and incentives recruitment has to offer, from lunch clubs to fun activities like go-carting, it's truly an exciting career.
Looking to start your career in recruitment? Check out our latest opportunities here.