The SOapBox Series | Season 1 Episode 3: Improving Diversity, Equity and Inclusion in Organizations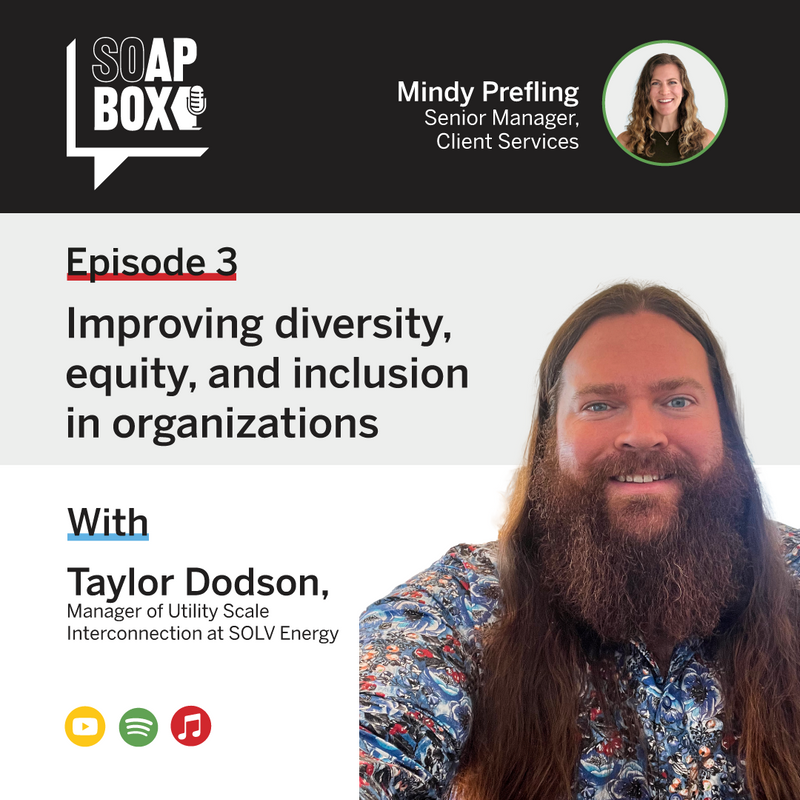 ​
New podcasts will be launched every 2 weeks, check our dedicated podcast page to view them all. ​
In episode three 'Improving diversity, equity and inclusion in organizations' Senior Manager of Client Services at Spencer Ogden, Mindy Prefling, speaks to Taylor Dodson, Manager of Utility Scale Interconnection at SOLV Energy.
Taylor talks about his long-standing career, the need for labor in renewables, and his drive to improve Diversity, Equity, and Inclusion at SOLV Energy. He offers insightful statistics on how the renewable sector is growing, with market expected to double and then triple in size. They also discuss common challenges in the sector and how SOLV Energy is facing them head on.
The rebrand of SOLV Energy
[Timestamp: 19:49 - 20:38]
Taylor: With the way things are looking over the next decade, renewable energies are going to grow year on year at a rate of to 50%, with the market doubling and then tripling in size. To maintain our current marketing position of 10% to 20% of the business, significant investment was necessary. We found a great partner in American Securities who are moving us in the right direction to invest in our people, our equipment, and our company, allowing us to chase that market position and focus on both EPC and O&M leadership within the renewable space.
The challenges facing SOLV Energy with their current growth
[Timestamp: 25:35 - 26:19]
Taylor: The primary challenge is labor, we need more of it! We want the best of the best, and everyone else that's recruiting is after that same labor pool. I'm excited to talk about how we expand that pool and how we get the best talent possible.
Mindy: Let's talk about that. Do you have any ideas of how we can expand that pool?
Taylor: Absolutely. Diversity, Equity, and Inclusion is certainly one thing that's near and dear to my heart. Also, word of mouth referrals. Working with talented recruiters like Spencer Ogden is another way that we're looking to expand this. Again, it's a multi-pronged approach.
Diversity within the Renewables industry
[Timestamp: 27:13 - 28:13]
Taylor: We're focused on strengthening Diversity, Equity, and Inclusion through environmental justice by providing diverse and equitable opportunities for students, the communities we work in, our suppliers, our workforce, and our leadership teams. We're currently looking over some statistics within our company. You can't say where you are without monitoring these things, but they also can't be the end-all be-all because it's more inclusive than that. With that said you must track where you're at in order to set goals and track your progress. At the end of 2020 we were at around 30%, minorities within our group. Our EPC group is now made up of 27% females, which is slightly lower than within our operation and maintenance teams.