The SOapBox Series | Season 1 Episode 4: A Sustainable Approach to Energy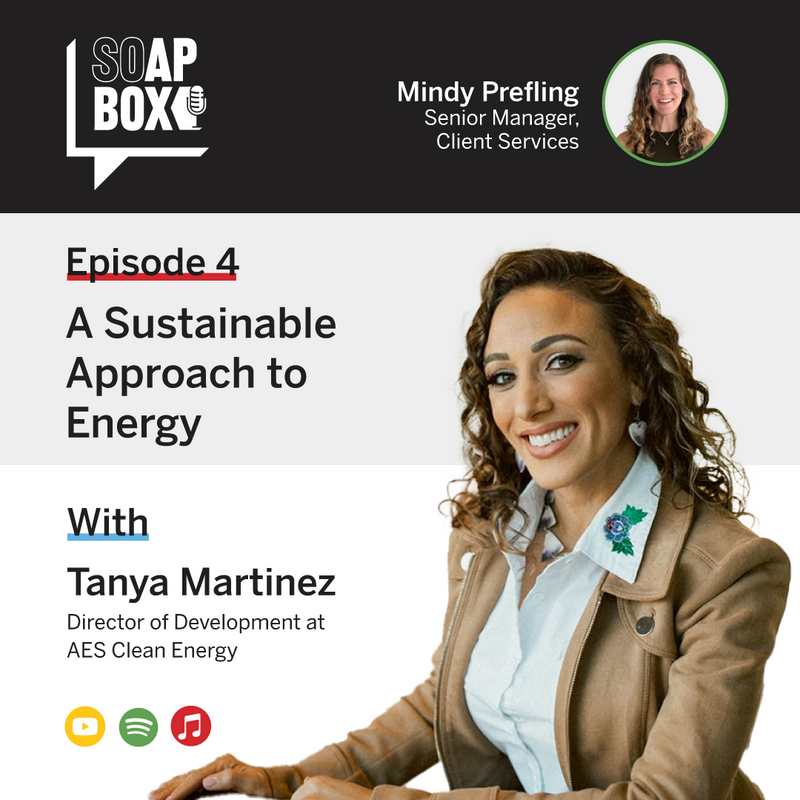 ​
New podcasts will be launched every 2 weeks, check our dedicated podcast page to view them all.
​
In episode four 'A Sustainable Approach to Energy' Senior Manager of Client Services at Spencer Ogden, Mindy Prefling, speaks to Tanya Martinez, Director of Development at AES Clean Energy.
Tanya talks about her experience as a woman in engineering, the importance of respectful representation, and the current state of DE&I in renewables. Throughout her career in the industry, Tanya has witnessed the introduction of new in legislation and fought her fair share of battles. This episode is full of insightful snippets that are sure to inspire!
​
Can you tell us more about your career?
[Timestamp: 10:05 - 11:03]
Tanya: I have been working in the renewable energy industry for over 17 years now, primarily in the utility scale space as an engineering consultant, or as a developer. I've worked on solar, wind and battery energy storage projects. I'm currently working as the Director of Development for AES Clean Energy, managing the California and tribal energy projects for the company. AES is a global independent power producer headquartered in the US. AES Clean Energy is AES's clean energy arm that develops, constructs, owns and operates in the US only. It's currently operating in 20 states and has 3.6 gigawatts of projects online, with lots of projects in the pipeline.
​
Have you had any challenges being a female engineer?
[Timestamp: 22:35 - 23:31]
Tanya: I've witnessed some female engineers being overlooked by men because they 'couldn't possibly manage a construction site'. There have been times where men have made comments to me that may have been considered sexual harassment, which really taught me to speak up and establish healthy boundaries. We have a responsibility to foster a healthy work environment that respects all people. Often at times, as women we overlook behavior and 'off' comments. I'm guilty of that sometimes. However, you don't know what they're saying or doing to other people. So, I think it's our responsibility as people to speak up.
​
Why should someone consider joining AES Clean Energy?
[Timestamp: 54:20 - 55:02]
​Tanya: They should consider joining AES Clean Energy because it's a super exciting, very innovative company. The teams and the calibre of people you get to work with and learn from is second to none. They're at the forefront of developing renewable energy projects and have a wealth of knowledge to learn from.