The SOapBox Series | Season 1 Episode 5: Talking All Things Development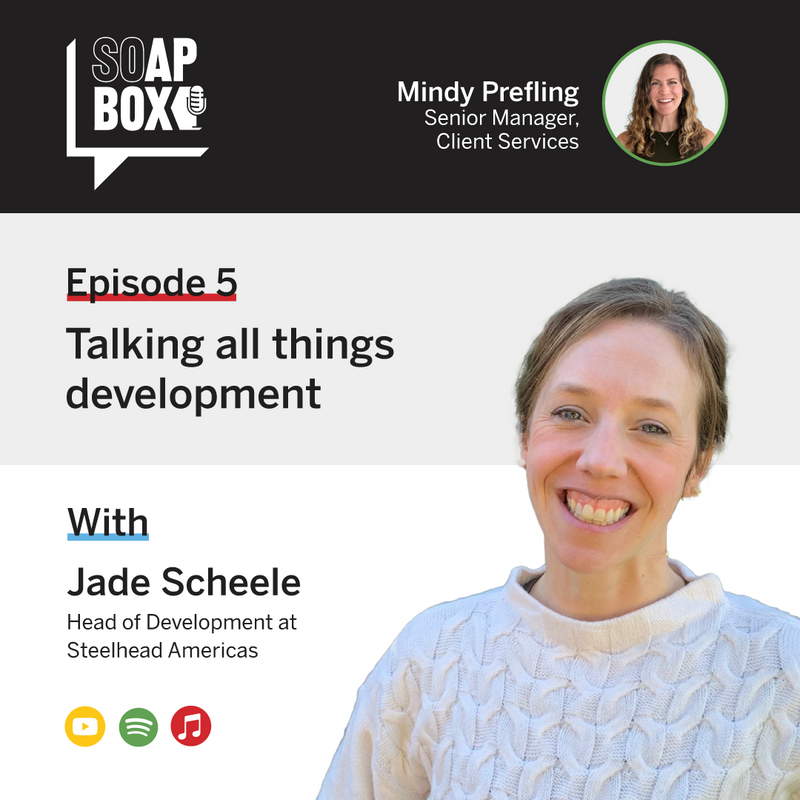 ​
​New podcasts will be launched every 2 weeks, check out our dedicated podcast page to view them all.
​
In episode five 'Talking All Things Development' Senior Manager of Client Services at Spencer Ogden, Mindy Prefling, speaks to Jade Scheele, Head of Development at Steelhead Americas.
Jade gives her advice for developers with no idea where to start and talks about the importance of welcoming feedback, as well as how the key to overcoming the pandemic struggles is to embrace the virtual environment. Jade and Mindy also touch on the topic of diversity and inclusion and Steelhead's approach to encouraging this.
​
How do you successfully align with companies?
[Timestamp: 16:06 - 17:09]
Jade: My dedication to my profession means I like to make sure that with every company I join, I really believe in what we're trying to accomplish. Even when it's difficult, I always try to keep a North Star approach by reminding myself of what I know the company and I can mutually do for one another. This is also what I tell my developers here. I had a professional growth goal, and I knew that with the company that I was with, either Cielo or Apex, they too had a particular offering where we could mutually benefit one another. When you come to the end of that, there's no hard feelings, it's just that in your growth or your professional trajectory, you've maxed out the alignment with that company.
​
What's your opinion on feedback?
[Timestamp: 32:17 - 33:08]
Jade: The one tool that I lean on consistently is feedback. The feedback loop from my peers or my team to me is important to me. As harsh or as wonderful as feedback can be, it needs to happen. In my current role, Steelhead is focusing on the things that make us a team or a family, and a big component of that is honest feedback, challenging one another's statements, and having that incredibly positive rapport.
​
What challenges did you face when growing your team within a pandemic?
[Timestamp: 47:42 - 48:36]
Jade: We are looking for candidates who are willing, or who are excited to take on this opportunity. They have one strong common thread, and we have a solid position in our own 'why'. Why are we doing this? Why am I going to be a part of a renewable energy team? And on the side of that, I really want to take an active part in building something that is my own. This is everyone - this goes from the origination director, or my position, all the way to the analyst's position. Across the spectrum we are all saying, "I want to be a piece of doing it right." This is not to say that other industry partners are doing it wrong, it's just that this is a blank slate, so you get to own your successes and your failures.
​
How does Steelhead approach D&I?
[Timestamp: 58:56 - 59:35]
Jade: We have 10 different nationalities that are not North America-based. I can't tell you the secret sauce that got us there, but I can say that we have benefited from our overall view of looking at the industry differently, appreciating diversity of thought, and challenging the status quo.