The SOapBox Series | Season 1 Episode 7: Double the guests, double the DE&I expertise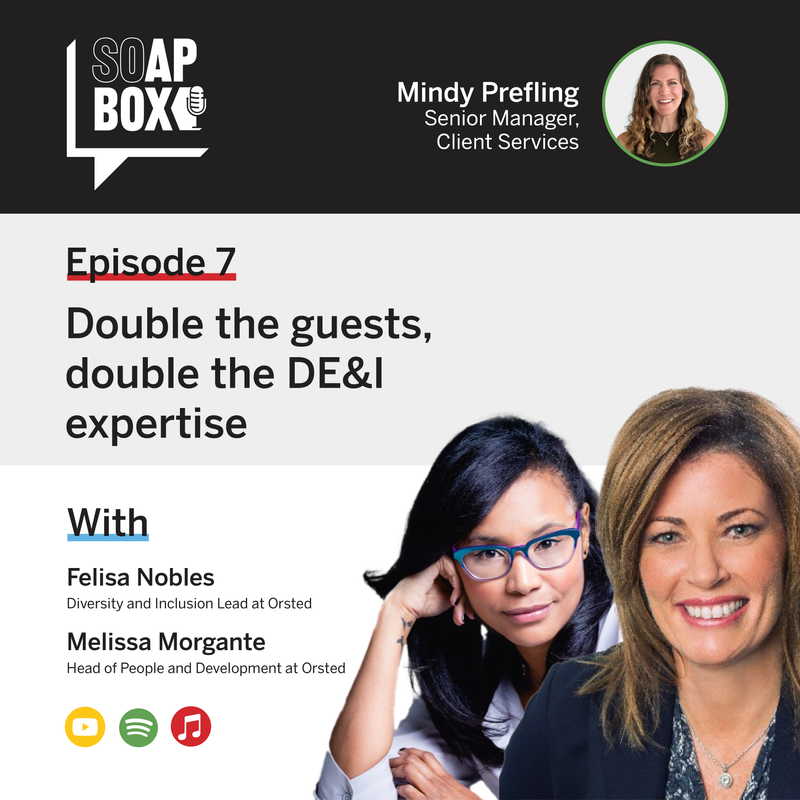 ​
​
New podcasts will be launched every 2 weeks, check out our dedicated podcast page to view them.
​
In episode seven 'Double the guests, double the DE&I expertise' Senior Manager of Client Services at Spencer Ogden, Mindy Prefling speaks to Melissa Morgante, Head of People and Development at Orsted and Felisa Nobles, Diversity, and Inclusion Lead at Orsted.
Melissa, Felisa and Mindy discuss DE&I and the importance of improving diversity within the renewable energy sector. Diversifying STEM is close to both Melissa and Felisa's heart, and they stress the importance of DE&I for the smooth running of any organisation and how going outside the norm can propel a company, miles ahead of competitors.
The importance of diverse candidates
[Timestamp: 05:49- 06:10]
Melissa: As a PMD leader, I feel very strongly about the fact that everything we do needs to come through the lens of being inclusive. You can hire and attract as many diverse candidates as you like, but if they're not going to have a good experience and can't relate to the benefits and the programs that you offer, then it's no good.
​
Diverse companies are better. Period.
[Timestamp: 15:58 - 16:58]
Felisa: Diverse, equitable, inclusive companies are better companies. Period. For a multitude of reasons. Everyone talks about the financial bottom line; there's all this research that says, 'innovative teams, when there's more diversity, they're shown to problem solve more quickly and all of those things' and yes, it is all of that, but I think it just makes not only the organizations better, but I think it makes people better in terms of who you're interacting with. I think that you're able to really improve opportunity, and make sure that brilliance is around the table, because brilliance looks and comes in many different forms. So, the more diverse that you can be there, the more inclusive that you can be, the more I think that you have all the right people sitting around that table.
​
Do you need diversity, equity, and inclusion to be a successful company?
[Timestamp: 19:30 – 20:20]
Felisa: Diversity, when we think about representation - yeah it matters, like heck yeah it matters. But the thing about it is if I'm one person in my organization who has that dimension of identity and I have the weight of that, I feel the isolation in that, I can feel all kinds of things, then I don't feel included and then I'm out. To Melissa's point earlier, you can't have one without the other. Of course, with equity, that's essential, that's the basis for both. So, you really need all three to be a successful organization.