Top Recruiter Awards recognise Spencer Ogden Americas high performing consultants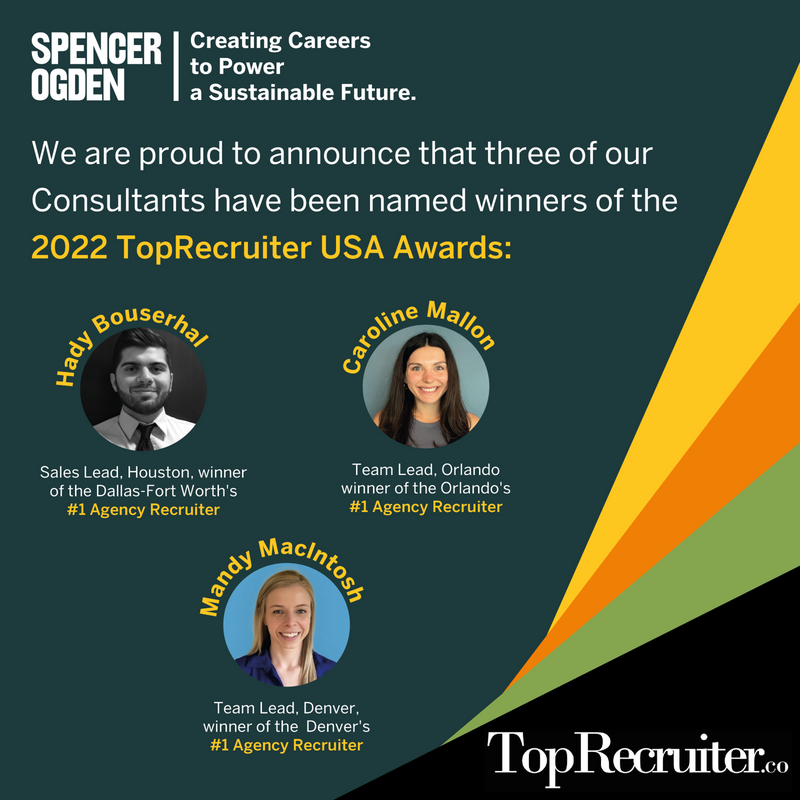 ​Towards the end of 2022, we nominated three of our top performing consultants, Hady Bouserhal, Mandy MacIntosh and Caroline Mallon, for the TopRecruiter USA 2022 awards. Henry De Lusignan, Director of North America, wanted to put them forward as nominees to recognise their continuous hard work and dedication they show each day in their roles.
​
In order to become a successful nominee, each nominee was required to complete their personal profile which included obtaining testimonials from their clients and candidates. The judges then judged each nominee on the following criteria:
​
Authenticity:
​A recruiter who clearly demonstrates interest in aligning candidates and their talents with work that elevates them to reach their purpose.
​
Genuine Connection:
Established a deeply connected network, proven to reach talent in niche industries, remote areas and hot markets alike.
​
Passion:
​Beaming enthusiasm for recruitment that inspires others. Conveys an altruistic appreciation for recruitment.
​
Professionalism:
​Delivers extraordinary service e.g., always communicating with stakeholder: both hiring managers and candidates even beyond the placement.
​
​Trust:
​Widely recognised reputation for being the "go-to" vendor in a particular niche. Values discretion of information, always acting in the best interest of all concerned.
​
​Performance:
​A proven track record to deliver exceptional quality in record time at an equitable price. Earnestly identifies the company's and candidate's needs.
​
All three of our consultants were successfully chosen as winners for the following categories. Hear what they had to say about winning this award:
​Caroline Mallon, was awarded the winner of Orlando's #1 Agency Recruiter
​"Winning this award has been a big confidence booster. It shows that the work we've done with clients and candidates really pays off. It makes me feel proud to be a part of Spencer Ogden and to work in the Orlando market. It shows that we have built a name for ourselves and brand."
​
​Mandy MacIntosh, was awarded the winner of Denver's #1 Agency Recruiter
​"It was a lovely surprise to find out I had been recognised for this award. This award is validation of the hard work that I have put into the job as well as validation that I have a great team around me. I would not be able to get my business to where it is without the support of the wider Spencer Ogden business."
​
​Hady Bouserhal, was awarded the winner of Dallas-Fort Worth's #1 Agency
​"Winning this award means we have clients and candidates who trust in us as their #1 choice to help them get where they want to be. This also means they are in a better place now than when we first connected."
​
​It's great to see our consultants being recognised for their handwork and we are very proud to see them being listed as winners. We hope to see more of our consultants achieving the same in 2023.