SO Careers - Meet Recruitment Consultant, Kirk Cheng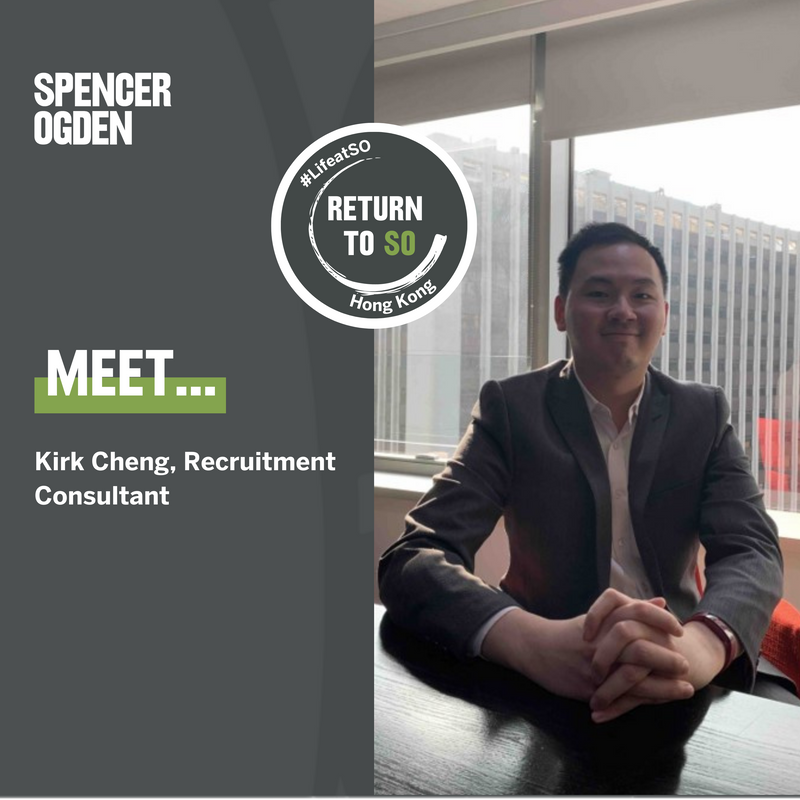 Kirk initially joined Spencer Ogden in 2021, seeking an exciting career change after previously working in the hospitality industry. After learning recruitment basics with us through our award-winning L&D programmes and gaining that crucial experience on desk, Kirk left for a while to explore the world of IT recruitment. While he was away, Kirk missed the unique culture and the nurturing support available to consultants at every level. Therefore, he decided to return! Kirk now spearheads a vital desk, recruiting for Sales and Marketing roles from our Hong Kong branch.
We asked Kirk a few quick-fire questions about his journey with us.
Tell us abit about when you first joined Spencer Ogden, back in September 2021
I joined Spencer Ogden (SO) after deciding to take a leap of faith and leave the hospitality industry. I was interviewing with several recruitment firms at the time but settled on Spencer Ogden because of a few reasons; Firstly, the interview process was quick and efficient. I spoke with several people on the same day, so could really get a feel for the company and a decision was made promptly. I really liked the people I spoke with, and our conversation gave me a good understanding of how the business operates and how recruitment works. Upon joining, I started out on the Chemical desk for the China team.
After leaving the business last year, what made you want to return to SO?
The culture of Spencer Ogden is unique and not easy to find in other recruitment firms. SO provides a platform that nurtures consultants of any level and makes people feel at home.
What do you enjoy most about working here now?
The collaborative culture and people! Management and our Learning and Development (L&D) departments are very helpful. The commission structure is attractive. Meanwhile, collaboration between consultants is encouraged and colleagues support one another.
Where do you see a career with SO taking you now that you are back?
I feel that SO offers me a long-term platform for flexibility and career development.
What would you say makes Spencer Ogden stand out in the recruitment market?
I would say, the L&D Academy program and coaching provided to consultants of all levels. Also, a team that is dedicated to developing you and aligning you with the right skillset to succeed. If you have a will to succeed, SO will train you up to develop the skills needed.
What advice would you give to someone considering a career in recruitment with us?
Think carefully about what desk you want to do and choose something you are either knowledgeable about or passionate about (best if both). Understand that consultants at SO are all 360 and the job is BOTH recruitment and sales.