So Promoted! Meet Senior Consultant, Claudia Tan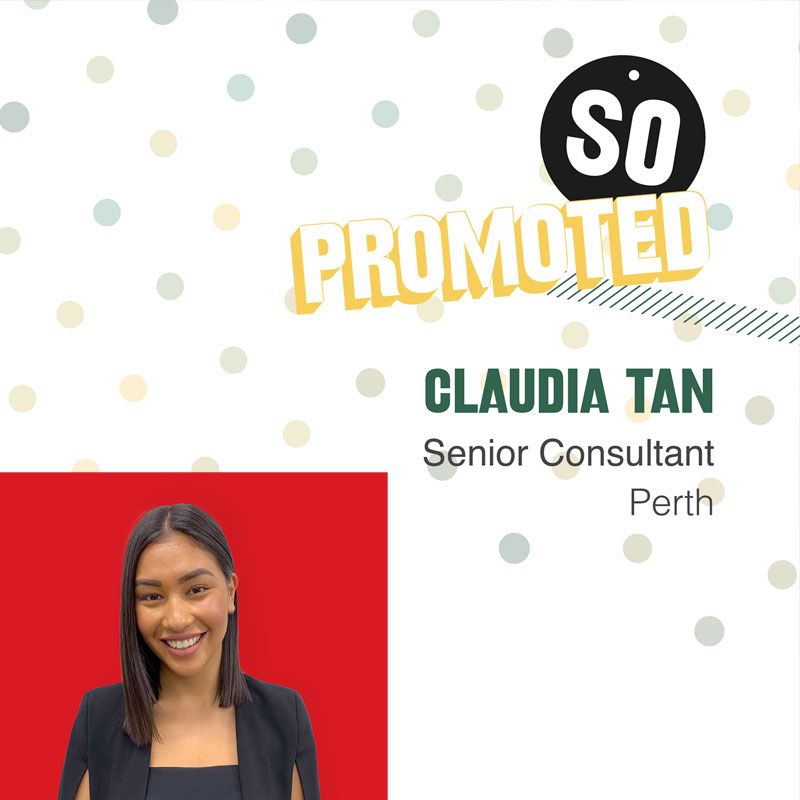 What initially attracted you to recruitment and why did you choose to work at SO?
What stood out to me about SO was the time and energy that Managers and Team Leaders dedicated to their consultants in order for them to grow and develop their careers, this was apparent to me in my first interview. The learning and development program and unique SO culture were other aspects that drew me to the business.
When did you start working at SO?


I started working at SO in August 2018, this was my first 360 recruitment role. Before SO, I was working at a small boutique agency where I was predominantly working in a 180 business development role.
How did you achieve the recent promotion to Senior Consultant? What is your advice to consultants that are looking to take the next step in their career?


I joined SO as their first consultant servicing the mining industry, which was a new space for the Perth office therefore I had to be very tenacious in my approach to see results. In order to map out a new local market, I had a key focus in business development and building client relationships which allowed me to grow my market knowledge and recruitment strategy. From day one at SO, I was determined to be successful so I set myself standards that I could personally manage and I would seek advice and feedback from my manager in order to maintain consistent results.

To consultants who are looking at taking that next step, my advice would be to remember the bigger picture and what you are out to achieve, fixating on minor details will only distract from your main goal.
How has your manager helped you achieve this promotion?


My manager was always very transparent with me about what my targets were in order to get promoted to Senior Consultant, therefore I was able to manage my expectations and could hold myself accountable. Recruitment has its ups and downs and my manager is great at motivating me when I would doubt myself or which helped me to stay consistent in my work.
What training has SO offered you to support your personal growth to date?


A couple weeks after joining SO I was flown to Singapore for a three-day training program for consultants with a 6-12 months' experience, this type of formal training was something I had never been exposed to and it was great to meet the L&D team and other consultants. Since then, SO set up their POD platform which I regularly utilise and my manager can set specific courses for me which are relevant to where I may need additional support. However, I have found the most effective source of training for me is leveraging knowledge from other consultants in the office who may have more experience or operate slightly different to myself.
Recruitment has its challenges - how do you stay motivated?


One thing I have learnt in recruitment is if you put in the hard yards, you will be rewarded whether it is a week, month or year down the track.
I stay motivated by setting realistic short and long term goals that will challenge me. I think it is important to surround yourself with ambitious and high performing individuals (which we have a lot of at SO) they will push you to be at your best and offer different perspectives on challenges that we face.
What advice would you give a graduate considering a career in recruitment?


Recruitment is a satisfying and rewarding career however it can also be very volatile and sometimes things will happen that are out of your control.
I think the best advice I can give is to keep a positive attitude and persevere even when things don't go according to plan. If you are tenacious and driven in your work then you will see results!