#SONews - Major Offshore Wind Projects to Watch in 2021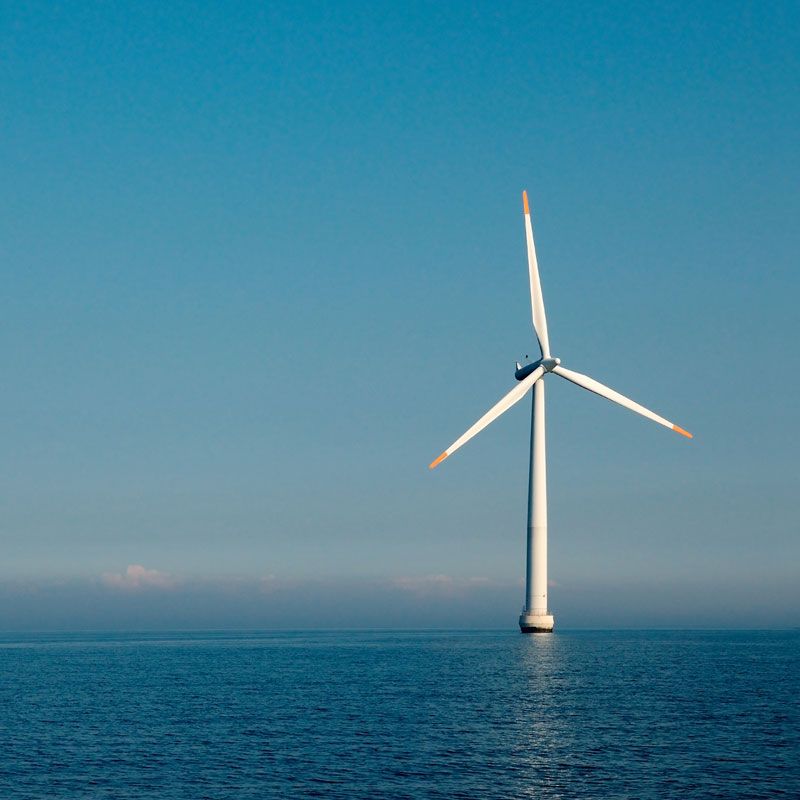 ​
Offshore wind energy began in the 1990s and ever since has been growing in scale. Over the last few years, offshore wind growth has accelerated considerably due to over 70% of the world being covered by sea and the wind speeds being considerably stronger offshore than onshore.
In 2009, 1% of global wind installations by capacity were offshore compared to over 10% in 2019. The industry is now very mature, but it is only the beginning in terms of global expansion. Over the last 30 years, there has been many lessons learnt from offshore wind in Europe and those lessons are now being taken forward by other countries and developers. Country by country, offshore wind is going global and countries are understanding the potential of offshore wind to achieve their energy transition.
Largely riding out the troubles of 2020's Covid-19 pandemic, offshore wind has been less impacted than other energy sectors and continues to be a big part of the world's renewable energy transition.
Existing markets such as UK, Germany, Denmark, Netherlands, Belgium and China are growing. With markets in Taiwan, US Atlantic Coast, Japan, South Korea and Vietnam emerging. And, new markets entering the world of offshore such as Brazil, Mexico, India and Sri Lanka continue to develop at pace.
The potential for offshore wind is huge. Spencer Ogden have presence in EMEA, Americas and APAC and work with some of the biggest global renewables brands. We have identified some of the world's key offshore wind projects to watch:
Key Projects to Watch in Europe:
Dogger Bank (UK)

The Dogger Bank projects consists of 3 developments (Dogger Bank A, B and C). The three projects will be located 60 miles off the North East coast of England and will become the world's largest offshore wind farm.

The project is part of a joint venture between Equinor and SSE Renewables, with SSE Renewables handling project development and construction and Equinor overseeing operations.

Offshore construction will begin in 2021 with first power planned in 2023. Each phase will comprise of 1.2GW of power and represents a multi-billion-pound investment. Combined, the three projects will have an installed capability of 3.6GW and will be capable of powering 4.5 million British homes, meeting 5% of the UK's electricity demand.
Baltic Eagle (Germany)

Baltic Eagle located in the Baltic Sea next to the Island of Rugen represents the second largest offshore wind project developed by the Iberdrola group in Germany.
Iberdrola group selected MHI Vestas in 2019 as the official supplier of turbines for the Baltic offshore wind farm. It is the first offshore project to use their V174 turbine. MHI Vestas will deliver and install the turbine by 2023.The offshore wind farm will have a total capacity of 476MW and will supply renewable energy to 475,000 German houses.
Ijmuiden Ver (Netherlands)

Ijmuiden Ver Wind Farm is a project that is still in the feasibility stage. The offshore wind farm is due to have a total capacity of 4GW and be in the Dutch North Sea off the Northern coast. Ijmuiden Ver is part of the Dutch government's plans to have 11.5GW of offshore wind capacity by 2030.

The Dutch TSO TenneT will connect the project to the local grid using DC technology. There is a possibility that an artificial island could be built to accommodate a converter and transformer station. If this goes ahead, this would be more effective for grid connection than large offshore platforms.
Tenders are currently ongoing for the offshore survey contract for this project. It is predicated that the Ijmuiden Ver Wind Farm will be constructed by 2030.
Fecamp (France)

Fecamp Wind Farm is an offshore wind farm being developed off the coast of Fecamp in France. The project will be in the English Channel, 13km off the coast of the Haute Normandie region. The project was launched in 2020 and is expected to be commissioned in 2023.

Fecamp wind farm has a capacity of 500MW and will generate enough electricity to fulfil the demands of 770,000 people in Seine-Maritime (Normandy region) as well as offsetting two million tonnes of carbon dioxide.

EDF Renewables and Enbridge own 35% each and WPD offshore owns the remaining 30% of the project. The project is being developed with an estimated investment of €2bn. Fecamp Wind Farm is due to be operational for 25 years and will employ 100 people for maintenance over those years.
​
​
Key Projects to Watch in the Americas:

Vineyard Wind

Vineyard wind is the first commercial scale offshore wind farm in the United States. Vineyard wind will be developed by Iberdrola, through Avangrid Renewables, and is one of the largest developments of the Iberdrola group in the world. The wind far will have 84 MHI V164-9.5 MW turbines.

The offshore wind farm is due to start construction in 2023 with total investment of the project being €2.5billion. Vineyard wind will be located off the coast of the state of Massachusetts and will have a capacity of 800 MW and will supply renewable energy to over 400,000 homes. It will also be offsetting more that 1.6 million tons of carbon dioxide every year. During the operational period of this project, a total of $3.700 will be saved in energy costs in the New England region.

Vineyard wind is the project that solidifies Iberdrola group's position as a global leader in offshore wind.

Empire Wind

The Empire Wind offshore wind farm is planned for an area of 80,000 acres, in federal waters, 20 miles south of Long Island and east of the Rockaways.

Equinor won the bid for Empire Wind and is expected to start construction in 2024. The offshore wind farm will have a total capacity of 816 MW and be developed with 60-80 wind turbines, with an installed capacity of approximately 10 MW each.

Equinor will invest a total of approximately $3 billion, and the project will be able to power over half a million houses in New York.

Empire Wind confirms Equinor's role as a major contributor in meeting New York State's renewable energy and climate goals, including its goal of 9,000 MW of offshore wind by 2035. It is also an important milestone for Equinor who have an ambition to build an offshore wind core area on the U.S. East Coast.

Equinor are one to watch in the U.S. as they will also invest a further $60million in port upgrades in New York that will support future offshore wind projects and further strengthen the state's position as the U.S. hub for offshore wind.
Ocean Wind

Ocean Wind is the first offshore wind project in New Jersey and will be located 15 miles off the coast of southern New Jersey.

Ocean Wind's development began early this year (2020) and will be constructed by 2024. The offshore wind farm will have a total capacity of 1,100 MW and will create enough electricity to power half a million homes. The project will utilize the GE Haliade-X 12 MW turbine, which is the most powerful turbine on the market today.

Ørsted with the support of PSE&G will work on the construction of Ocean Wind. This offshore wind farm will play a significant role in New Jersey's renewable energy goal of supplying more than 3.2 million hones with offshore wind by 2035.
Sunrise Wind

Sunrise Wind will be the largest offshore wind farm in the state of New York. It will be located at least 30 miles east of Montauk Point and have a total capacity of 880 MW.

The Sunrise Wind project will be developed in partnership between Ørsted and Eversource, with support from Con Edison and the New York Power Authority. Final investment decisions have not been made, but the offshore wind farm is expected to be operational in 2024 with the potential to supply electricity to over half a million homes.

Sunrise Wind will play a major contributor in meeting New York State's renewable energy and climate goals, helping New York accomplish a carbon-free energy grid by 2040.

Additionally, Sunrise Wind will introduce approximately 800 jobs through the project's development, construction and operation, with an additional 1,500-2,000 indirect jobs.
​
Key Projects to Watch in APAC:

Thang Long Wind (Vietnam)

Thang Long Wind is a offshore wind farm will be located in the Binh Thuan Province, Vietnam and will be constructed 20km away from Ke Ga cape. The project will be delivered in five phases and have a total capacity of 3.4GW.

Thang Long Wind is being developed by Enterprise Energy Group with national and international associated providing additional support. Vestas Wind Systems and Mitsubishi Heavy Industries will be the turbine manufacturers. The total project investment will be approximately $12bn.Construction is due to start in 2021 with the first phase of the project is due to go into operation in 2023, providing 600 MW of electricity to the Vietnamese electricity system.

And, when it is in full operation in 2027, Thang Long Wind will contribute up to 20 billion KWh of electricity per year.

Thang Long Wind will be the country's first offshore wind farm and Asia's largest.
Formosa 3 (Taiwan)

Formosa 3 offshore wind farm is located 35-60km off the coast of Changhua at County, Taiwan. Formosa 3 consists of three developments (Haiding 1, 2 and 3) and will have a total potential capacity of up to 2GW.

This project is the largest offshore wind project under development in Taiwan. It is jointly development by JERA, GIG and EnBW.

Formosa 3 has been granted full Environmental Impact Assessment approvals and they are preparing for the Round 3 grid auction process for the project. This project is due to be operational after 2025.

When fully operational, Formosa 3 will generate enough renewable energy to power between 1.5 to 2 million households in Taiwan whilst offsetting 2,670 tonnes of C02 every year of its operational life.
Great Changhua Wind (Taiwan)
Great Changhua offshore wind farm projects will be in the Taiwan Strait, approximately 35km to 60km offshore Changua Country in Taiwan and will have a total potential capacity of 2.4GW.

The project when completed will take the lead as the largest offshore wind project in Taiwan. It being solely developed by Ørsted.

The offshore winds projects will consist of four developments: Greater Changhua 1 and 2a (capacity 900W), Greater Changhua 2b and 4 (capacity 920 MW) and a future 600MW Greater Changhua 3 project.

The installation is planned to start in 2021 and when completed will generate enough renewable energy to power approximately 2.8 million households in Taiwan.
The Star of the South (Australia)

The Star of the South wind farm will be located off the coast of South Gippsland, Victoria. The wind far is Australia's first offshore wind project.

The project is currently in the feasibility phase operating under an exclusive exploration license granted by the Australian Government. The construction of the Star of the South is due to start from 2023 and be fully operational by 2027. However, these dates are dependent to approvals and meeting feasibility requirements.

The Star of the South has the potential to supply renewable energy to 1.8 million households in Victoria whilst creating jobs and investment.

The offshore wind farm could provide approximately 8,000 direct and indirect jobs in Victoria over its 30-year operational period, including 5,200 construction jobs and 740 ongoing jobs every year.

According to AlphaBeta's (part of Accenture) new economic modelling which was commissioned by the Star of the South project, the offshore wind farm would invest about $8.7 billion into Victoria over its lifetime.
​
As you can see there is a significant opportunity in offshore wind and the global offshore wind market outlook has become increasingly promising over the past few years as governments raise their renewable energy and climate goals and new countries join the market.
The Global Wind Energy Council expects that by 2030, 205 GW of new offshore wind capacity will be added to the world.
Currently Europe has the world's largest regional offshore wind market, and it is expected to continue steady growth. However, planned installations from Asia and North America are likely to eventually surpass Europe's domination.

In the next couple of years, most of the growth outside of Europe will primarily come from China and Taiwan, with the US's contribution playing a large part in 2024 when their first utility-scale offshore project becomes operational.

Spencer Ogden have been established in the renewable energy market for 10 years. Our worldwide network gives us access to the talent our clients needs, plus the high-caliber projects our candidates are looking for. Find out how we can help with your renewable energy hiring needs.
​
#CreatingCareersToPowerASustainableFuture