SO Transfer! Meet Karan Prasad, Principal Consultant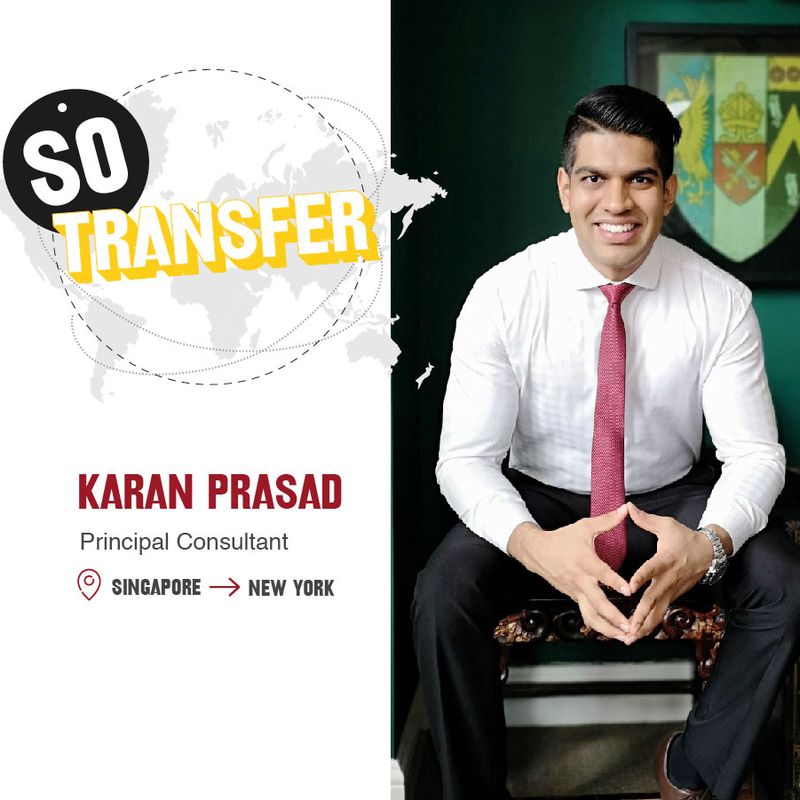 ​Karan Prasad talks about how he achieved his internal transfer from SO Singapore to New York, and offers advice to graduates who are considering a career in recruitment.
What initially attracted you to recruitment and why did you choose to work at SO?
After finishing university, I knew I wanted to work in sales and Spencer Ogden had been recommended to me by a friend at University but I knew nothing about recruitment at the time. However, the high performance culture at SO along with being rewarded for your successes through commission and endless progression opportunities was very attractive.
When did you start working at SO?
I joined SO in April 2016, joining the renewables energy, perm team in Singapore and in the last three years I have progressed to become a Principal Consultant.
How did you achieve the recent internal transfer to New York? What is your advice to consultants that are looking to take the next step in their career?
I achieved the billings and competency requirements for the promotions to Senior and Principal Consultant respectively in my first 2 years. Following that, I decided to take my career in a different direction to managing consultants and doing so in a new geographic region all together. SO New York had a need for a leader for the renewable energy team and I thought this opening was the perfect challenge for me.
The directors in the business were exceptionally supportive, they advised me throughout on my progression opportunities and guided me throughout to make the international transfer run smoothly.
My advice to consultants to consistently challenge yourself and never be afraid from failure. Lessons learnt from failure is what will allow you to succeed provided that you remain to consistently put in a lot of effort. The more you put in, the more you get out. Only you know your true potential.
How has your manager helped you achieve this promotion?
Melissa Chima has been my manager for the most-part of time in Singapore. She taught me everything I know about recruitment and gave me the tools to succeed, working with more than 30 clients across 12 countries. Her determination has motivated me to achieve my own personal goals.
David Mills, has been my manager more recently, he has recruited and led businesses across the world. I have learnt from him valuable skills such as business acumen, communication, presentation and business development which has been very valuable at this stage in my career. I now feel more prepared to work in the U.S.
What training has SO offered you to support your personal growth to date?
I completed the SO Graduate Training Academy when I first joined which taught me about recruitment and set me up do the job successfully. I then went on to complete other training courses at SO, such as Emerging Leaders and High Performing Leaders which helped me aid my leadership development.
Throughout my career at SO, I have been able to ask management for career support and they have always been forthcoming.
Recruitment has its challenges - how do you stay motivated?
Practice makes perfect, and I really enjoyed the process that has led to where I am today. Money wasn't my main motivator, I just wanted to ensure that I was the best I could be at my job to progress and the results followed.
What advice would you give a graduate considering a career in recruitment?
Recruitment is a job that needs patience whilst you're learning. The more you give, the more you will get out of it. You will see results and at SO you will be rewarded for all your hard work. As my role model, Arnold Schwarzenegger says, "Ignore the naysayers and work your butt off".