Celebrating International Women's Day 2021 – A discussion with Ana Santos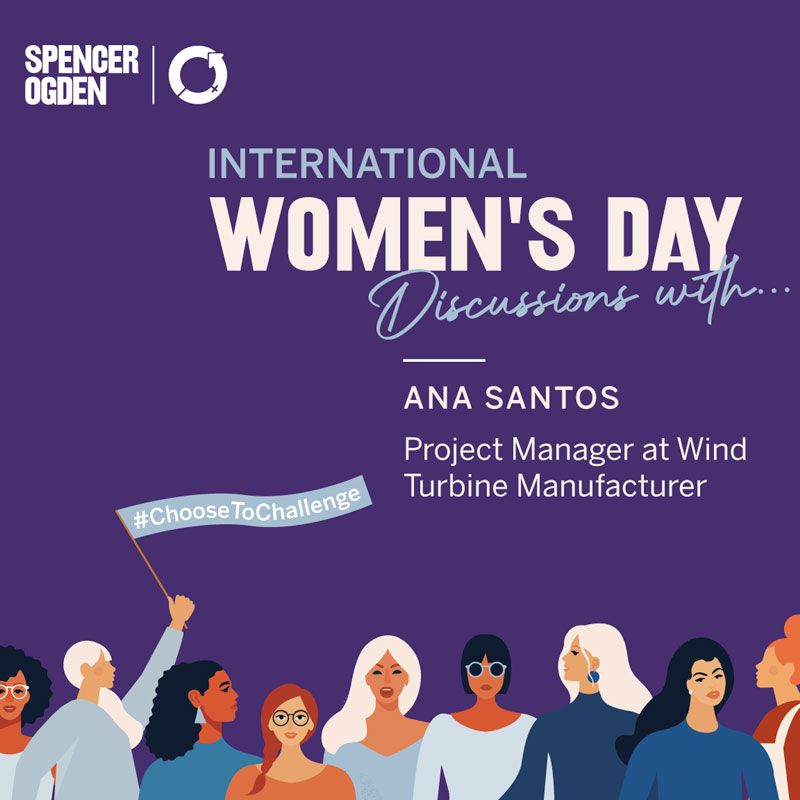 ​To celebrate International Women's Day, Spencer Ogden is celebrating and promoting the contribution of female talent in the energy sector, sharing their advice on creating a more equal and fair industry for the future. Ana is Project Manager at one of the world's largest wind turbine manufacturers. Read Ana's spotlight interview.

This year's International Women's Day theme is 'Choose to Challenge'. A challenged world is an alert world, and from challenge what comes change. What does the International Women's Day slogan #ChoosetoChallenge mean for you in your work life?
Do not stop doing something you want to do just because it seems like it may be hard, or it is not common for a woman to do.
Naturally, when people get into situations, they are not familiar with they avoid them or not pursue them any further. But life is full of challenges, so if you want to do something and you are passionate about it then why not do it?
If you choose something because it is a more common or the popular route, even that choice you will always face challenges.
Whatever decision you make, there will always be challenges. At least you are doing what you want or have envisioned doing. And, if you are doing something you believe in, you'll be happy!
Why did you choose to become a project manager?
After some internships, my first real job was as an operations and maintenance manager for a Paper Mill, and the maintenance department was a department that was not commonly inhabited by men.
As this company was a small company, the job came with a lot of roles and tasks. One person had to do almost everything! Even though I was in the O&M department, at this company construction fell under maintenance, so I looked after construction works when needed as well as O&M works.
After seven years and of doing everything on the paper mill, which was a big learning curve. I had gained a lot of experienced at the company so I decided to make a change and pursue a career in project management in the construction area.
I got another job, and my first assignment was a wind project, a very big project and I was lucky to land this position. This was a few years ago and here I am now still in the wind industry, recently I joined one of the top players in turbine manufacturing, as a site manager and was recently promoted to a project manager.
In your opinion, why is it important that more women take up project management in the near future?
Even though it is important for women to take up jobs in currently male dominated industries, it is important to remember that you have a choice and women should not just take a job because they are doing it to prove a point but doing it because they are passionate about that job or they want to try it out.
Women can choose to work in an industry where they are outnumbered and do the work just as well as their male colleagues.
To women who have made the decision to join an industry that is male dominated, what advice would you give to them?
Women should be assertive, not be afraid to share their opinions and get involved with hard decision making. Remain professional and do not worry about what people think of you.
When you're in a room predominately filled with men and you may be the only woman or one of the only women, don't let that stop you from speaking up and saying what you want to say.
In an environment where people are not used to women it may be challenging, and it may take people time to get used to seeing a woman in a top position, making the hard decisions. My advice is to keep your assertiveness and do your job to the best of your ability.
Do you think there is a stereotype attached to female wind industry?
I would say there is no stereotypes attached to women in the industry as there is still not many women working in the industry. The women I have seen are positioned in HSEQ roles.
My experience with my current employer has been positive as a woman. I am seeing a few women in roles that are commonly dominated by men such as Site Managers. The company is open-minded, and I am seeing more and more women on site during my time working here. Let's hope this trend keeps and spreads to other companies in the industry.
On International Women's Day, what is the most important message you want to send out to young women thinking about their careers?
Make sure you do what you are passionate about. Don't let others or society act as an obstacle to what you want to do.
You are living your own life, not anyone else's and you only get one chance at it, so never stop doing what you want to do because people around you do not approve. Go for it!