'To Power a Sustainable Future' - We share our thoughts and insights ahead of World Earth Day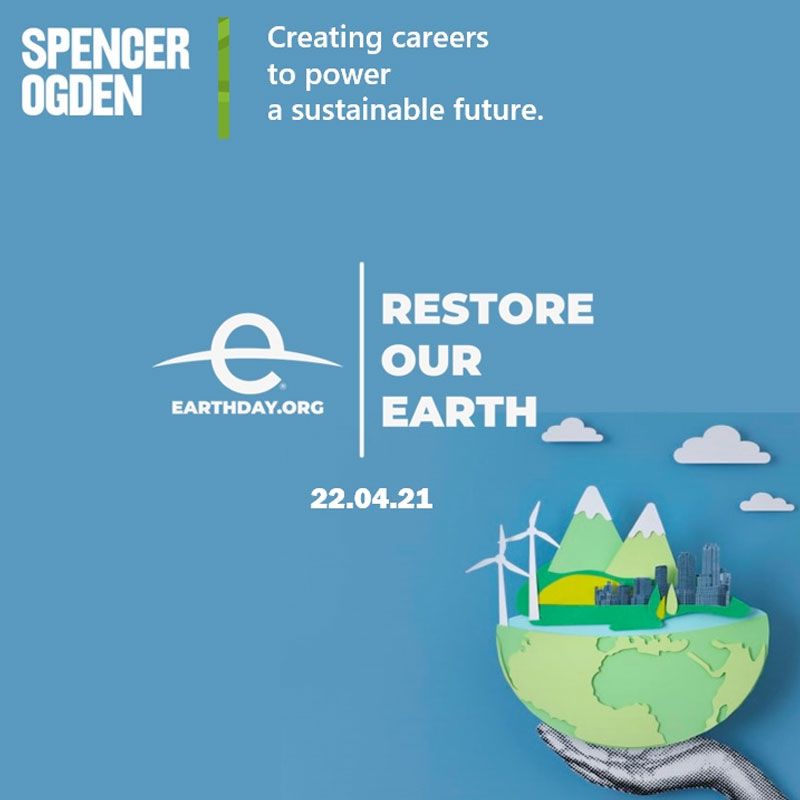 ​
Tomorrow is World Earth Day, a day globally where commitments are made to have important discussions around climate change.


This year's theme is "Restore our Earth", which focuses on natural processes, emerging green technologies and innovative thinking that can restore the world's ecosystems. In the lead up to the day and in line with our own corporate purpose, 'Creating Careers to Power A Sustainable Future' we spoke to some of our global renewables experts about their commitments to climate change and what this year's Earth Day meant to them.
At Spencer Ogden we recognise that it is up to each one of us to restore our earth, not just because we care but because it's the world, we all live on.
​
MATT HOPPING
Consultant, Melbourne
​
​
I have been very aware of the worlds eco-system failing, and I was aware that I have not been taking enough steps to play my part in the revitalisation of the eco-system. It wasn't until I started working at Spencer Ogden where I grew a passion for renewable energy and the positive impact it has on our world.

World Earth day gives us all the opportunity to educate an increased number of people about the positive impact that can occur if we all work together and have a common goal of restoring our planet.

At Spencer Ogden, we run a number of different initiatives, to practice what we preach. Personally, I try to educate as many candidates as I can about renewable energy and make them want to move to Greenfields industry. The best part is that every single person that makes the transition is proud to say they work in the renewable energy industry. Popular opinion is the key to success! I also try my hardest to stay ahead of the curve in relation to new 'green' technologies and ensuring that the industry isn't short of suitable talent that is required within it. For example, the new Green Hydrogen Export industry in Australia.
​
CHRIS MANDELLA
Manager, New York
​
​

It is great to see Earth Day gain momentum year on year. It is an important event which promotes sustainable, more eco-friendly living! Spencer Ogden are helping our clients build a sustainable future by applying our recruiting expertise helping them get the talent needed.

The industry as a whole faces consistent challenges in attracting the right talent; not only with the shortage of young people graduating with an education in STEM subjects, but also the rate of innovation in the renewable energy sector means companies must be creative in building their teams. Spencer Ogden continues to make available our 10 years recruiting experience to help green energy projects get off the ground!
​
MELISSA CHIMA
Country Manager, Singapore
​
​
With the theme this year being 'Restore our Earth' this really rings true to the great emphasis that we have at Spencer Ogden globally, to scale up our renewable energy teams that support clients globally on projects across Wind, Solar, Hydro to name a few types of clean industries.

Being a massive personal advocate to saving the planet and ensuring we have a sustainable future for the future population of the earth, it makes me proud to be part of a team that's driving a change towards cleaner energy.

In Asia, we have so many reasons as to why it's so important, from growing populations which need more energy and quicker, locations that do not have any access to energy or the grid - to countries that have reduced quality of life due to the air quality. We have seen huge changes being made as a direct result of our teams efforts in sourcing and deploying global and local talent into the region. We have built huge ground mount Solar farms, large scale wind projects and high profile hydro projects - and we are just getting started as we start to see a shift towards offshore construction!

There is a huge demand for clean energy in Asia and I am proud to be a part of a team at the forefront of this monumental change and restoration of the planet!

​
If you want to find out more about the sustainable energy fields we work in click here or get in touch!