SO Careers - Meet Senior Manager - Head of Permanent Business, Scarlet Lee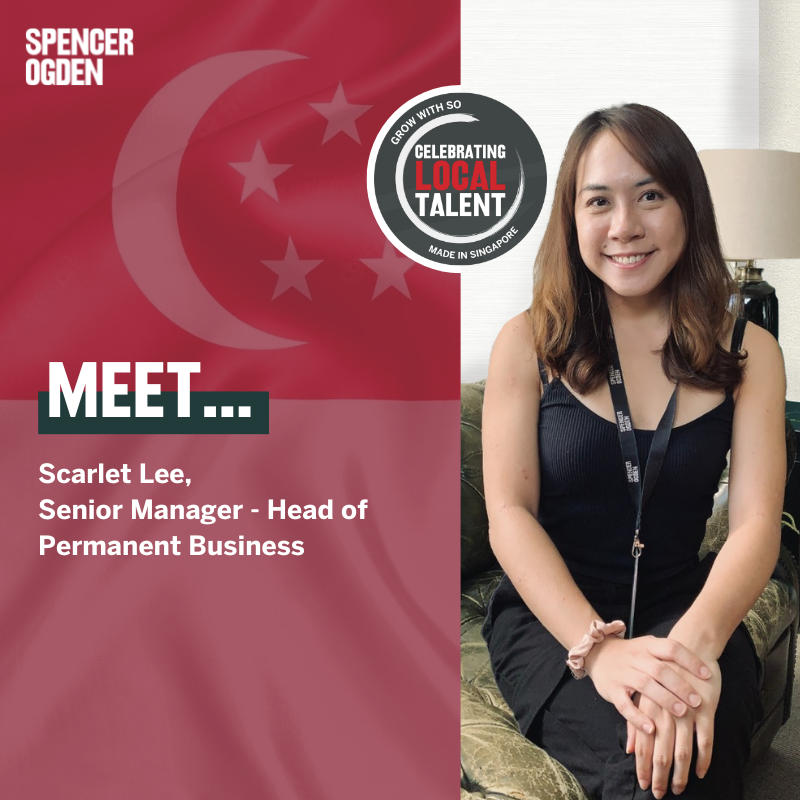 Scarlet Lee joined Spencer Ogden in 2019. During this time, she has built a successful career for herself and is now a Senior Manager and Heads up the Perm team in Singapore.
We caught up with Scarlet to find out what attracted her to Spencer Ogden and what advice she'd give someone starting their career in recruitment.
What initially attracted you to recruitment and why did you choose to work at SO?
After my first job in a business development role at a hotel, I realised that I enjoyed chasing numbers and working with people which was the exact combination that recruitment offered. When I joined Spencer Ogdenin April 2019 I was initially attracted to their offering as a business, and it was exactly what I was looking for in terms of the role and the company itself. They offer great career progression which was extremely valuable to me as well as working across sectors that are continually growing.
How did you achieve the promotion to Head of Perm? Is there any advice you can offer to consultants looking to take the next step in their careers?
Leading, managing, and taking full accountability for a business division has always been a personal aspiration of mine. Being forward-thinking and adopting responsibilities of what was expected as the Head of Perm helped build my skills and allowed me to develop into the role before even formally achieving it. I tend to reflect inwards a lot and despite years of experience, I don't shy away from asking for feedback or help in my development areas. Most importantly, you must take ownership of what you want to achieve in your journey at Spencer Ogden by being clear in your direction and acting to make it happen. 
How has your manager helped you achieve this promotion?
My manager Tom has been one of the most supportive leaders I have ever worked with. He constantly challenges me and helps me create and set clear objectives to bring the perm business to the next level. On top of that, he never fails to let me know when I am doing a good job.
What training has Spencer Ogden offered you to support your personal growth to date?
When I first joined the business, I was immediately part of the Emerging Leaders and High Performing Leader programs which are two courses offered by Spencer Ogden's in-house Learning & Development team. This allowed me to familiarise myself with the leadership toolkit within Spencer Ogden, as well as further develop my people and management capabilities. Over the course of my career with Spencer Ogden, I have been able to work with senior leadership across multiple functions that have educated me to look at scenarios from different perspectives. I have also participated in multiple regional workshops and leadership meetings which have allowed an open forum of exchanging ideas and creating innovative solutions. 
Recruitment has its challenges - how do you stay motivated?
My motivations have changed through the course of my recruitment career. I initially joined because I was highly monetarily driven, subsequently, I wanted to create a name for myself and gain recognition from both my client and candidate network as a sector specialist, and today my team motivates me. I show up for them and feel a sense of pride when they achieve a new milestone in their career, be it a promotion or their highest pay cheque, to personal milestones - whether that be a loan paid off or a down payment for a house/car made. However,  throughout my career I have always been extremely objective-driven and forward-looking, pathing the way for the next 2 steps from where I am at now.
What are your top 3 tips for a graduate considering a career in recruitment?
Keep growing at whatever phase you're at  

Be clear of your motivations 

Celebrate your progressive milestones and not just the end destination 
​
​