The SOapBox Series | Seson 1 Episode 2: Overcoming Disparity Across Gender and Race in Renewable Energy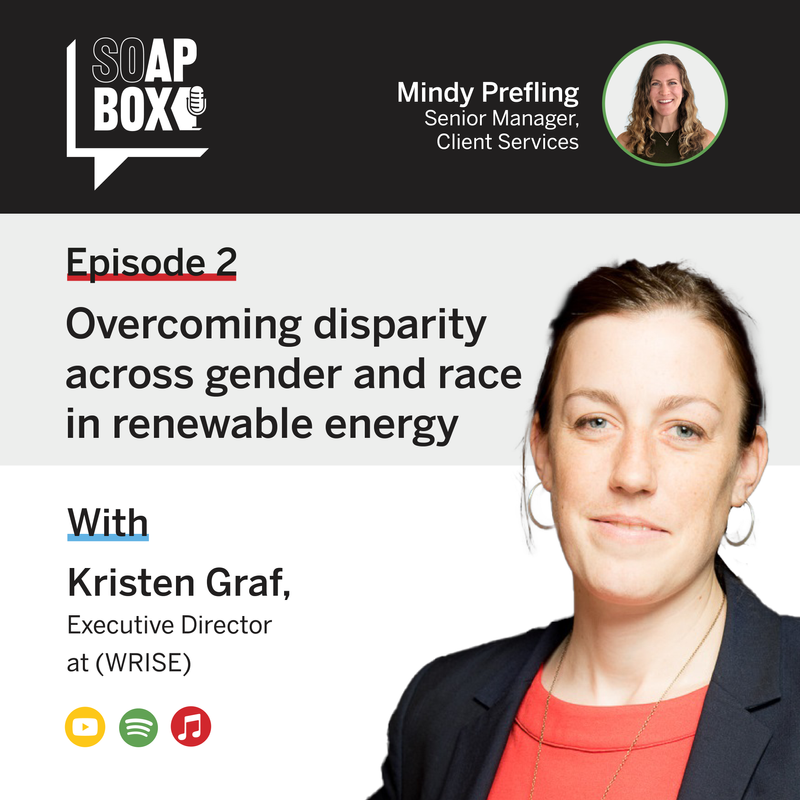 ​
New podcasts will be launched every 2 weeks, check our dedicated podcast page to view them all.
​
In episode two 'Overcoming disparity across gender and race in renewable energy' Senior Manager of Client Services at Spencer Ogden, Mindy Prefling, speaks to Kristen Graf, Executive Director at Women of Renewable Industries and Sustainable Energy (WRISE).
With more than 15 years of experience in various roles within the sector, Kristen shares her insights on the state of diversity in the renewables space and provides a realistic outlook for the future of a more diversified renewables industry.
WRISE's (Women of Renewable Industries and Sustainable Energy) understanding of gender disparity in the workplace
[Timestamp: 12:36 - 13:32]
Kristen: How do we make sure that the workforce and the organizations that are building that workforce are creating a space that's welcoming, inclusive, and challenging so that people want to stay and grow their careers there? How do we work on visibility and recognition for all of those amazing folks? Whilst we use women in our name, we want to be clear that we aren't specifically about women and recognize the whole spectrum of gender. There is an incredible amount of work that still needs to be done to recognize gender minorities that have not been engaged historically.
The history of WRISE
[Timestamp: 25:18 - 26:18]
Kristen: WRISE was founded in 2005 as 'Women of the Wind', but was adjusted to 'Women of Wind Energy' by women within the sector who were committed to seeing a shift in the number of women across the industry as a whole. There was a woman that they all knew named Red Meyer, an advocate in the Colorado area and who is understood to be the one who got Xcel Energy to move forward with their early voluntary green energy program. Unfortunately she passed away but the folks that knew her said that we have to commit to her legacy.
Diversity in the industry
[Timestamp: 37:10 - 38:00]
Kristen: There has been a shift on the gender side, but you have to think about the timing of it and how long you've been looking at it. As long as I've been in the sector, and there hasn't been a ton of hard data on gender diversity historically, there's been anecdotal evidence of tracking across events. I would say ten to fifteen years ago it was at a low of 20% across the whole industry. I would say now we're tracking up closer to 30% from a gender specific lens only. The racial equity numbers are far lower.