Spencer Ogden receives highly commended award in the Diversity & Inclusion category at this year's Wind Investment awards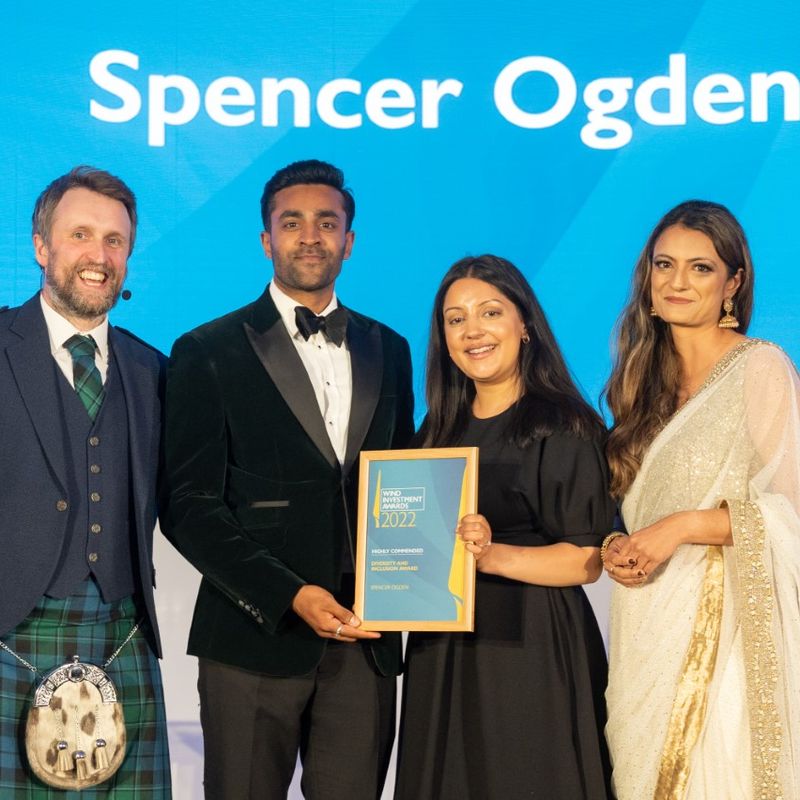 ​​We are very pleased to announce that Spencer Ogden has been awarded highly commended for the 'Diversity and Inclusion Award' at this year's European Wind Investment Awards. The 'Diversity and Inclusion Award' is a new category at this year's event and recognizes organisations that are making a difference in the wind industry by bringing together a truly diverse workforce and exceling in their commitment to equality and inclusion.
At Spencer Ogden we strive to provide equal opportunities to all employees, contractors, workers and job applicants and we recognize the importance of celebrating diversity and creating an environment where everyone is treated fairly. Being recognised for this award is a huge achievement for us as it echoes this commitment.
What we were awarded for….
Programme One
In November 2020, we came together with seven like-minded recruitment companies to discuss the significant underrepresentation of Black talent. Nine months later we joined forces and created Programme One to redefine equal opportunity within our industry. Our strategic ambition is to remove the barriers to the recruitment of 500 more Black recruiters into our sector annually and forms part of our internal commitments to a diverse and inclusive environment at SO.
Donna Ramshaw, Chief People Officer at Spencer Ogden commented, "Being founding members of Programme One is just one of the initiatives, key to our DE & I journey here at Spencer Ogden. We believe it is crucial to be a part of the change we want to see in the world. Therefore, our work as a founding member of Programme One is us firmly setting out our stall with regards to the lack of black talent in the recruitment sector."
Spencer Ogden's Diversity & Inclusion board
Last year we conducted a Diversity, Equality, and Inclusion (DE&I) analysis to identify our strengths and weaknesses in this area. Following the analysis, we set up Spencer Ogden's Diversity & Inclusion Board, made up of employees from across the business that are passionate about implementing positive change. The group was able to define what we represent and how we will measure impact and success.
DE&I Policy
Our Equality & Diversity policy encompasses all areas of our business to ensure that a positive equal opportunities culture exists. Everyone is expected to treat others solely on their merits and to disassociate themselves from any form of discrimination or harassment. Meanwhile, workforce composition and promotions are monitored to ensure equality of opportunity at all levels of the Company. Where needed, steps are taken to identify and remove unjustified barriers and to meet the special needs of disadvantaged or underrepresented groups.
Miranda McMillan, Senior HR Business Partner at Spencer Ogden commented, "We are delighted to be nominated for the Diversity and Inclusion Award at the Wind Investment Awards 2022. It is an honour to stand among top leaders in the wind industry and be recognised for our commitment to developing a diverse and inclusive workplace. Spencer Ogden has made great strides in the last two years from launching Programme One in 2020 to pioneering our own people-led Diversity and Inclusion Board. We have consistently gone above and beyond to remove barriers and create a culture of acceptance and equality."
About the Wind Investment Awards
The Wind Investment Awards celebrate best practices in the wind industry. Hosted in partnership with A Word About Wind, the awards enable top industry players to connect over a black-tie dinner. Through highlighting the best people and companies working in the global wind market, the Awards aim to help the sector and those working within it, to thrive. It is an honour to be shortlisted for the Diversity and Inclusion award at the Wind Investment Awards and to be recognised as an equal rights employer committed to creating a diverse work environment free from discrimination where our employees can be the best versions of themselves.
​
​