Spencer Ogden Awarded the Sustainability Leadership Award by Business Intelligence Group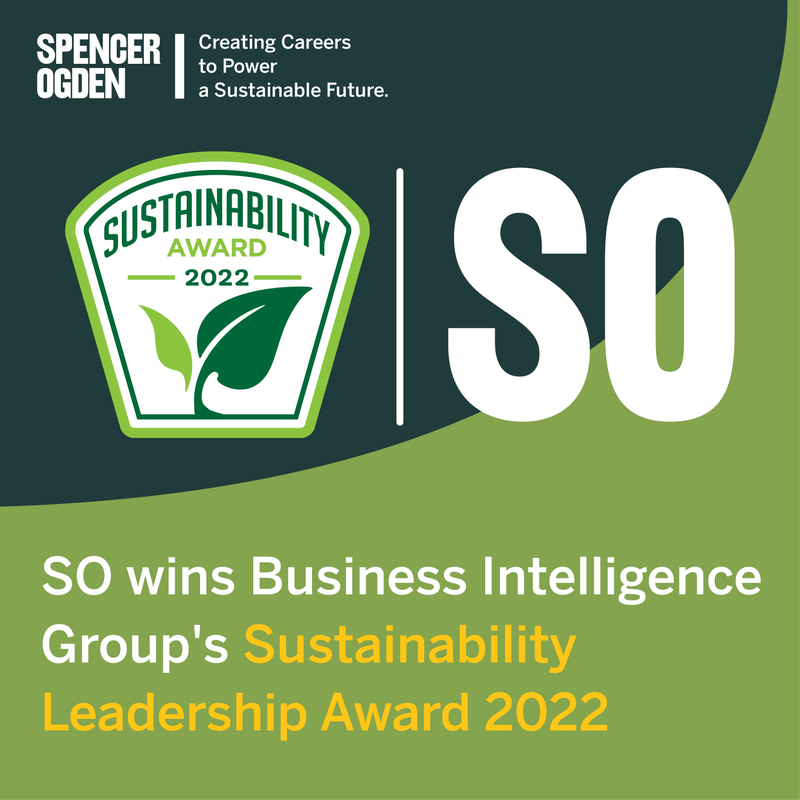 Yesterday, US based Business Intelligence Group named Spencer Ogden a winner of the Sustainability Leadership Award. The 2022 Sustainability Awards program honors those organisations who have made sustainability an integral part of their business practice or overall mission, and Spencer Ogden is proud to be named alongside a number of Fortune 500 companies
Spencer Ogden was recognised for their commitment to having a positive impact on the environment which was demonstrated through its charity partnerships with Seven Clean Seas, Cool Earth, and Ocean Sole, all of which are supported with internal incentives that the recruitment consultants have a direct impact on.
​In response to the announcement, Henry De Lusignan, Regional Director at Spencer Ogden said, "As a company, our purpose is to create careers to power a sustainable future, so it is hugely rewarding to be recognised for our efforts and be given this accoladein such great company of fellow winners.

I am proud to see that the commitment of our own people through volunteering and donations, combined with our key business partnerships with Seven Clean Seas, Cool Earth and Ocean Sole has been recognised by this highly respected award."
An area that made a particular impact on the judges was Spencer Ogden's podcast series, SOapbox.This opens discussions with thought leaders to discuss, educate and drive change towards creating a more sustainable industry within the renewables sector. With over 4000 downloads and over 15,000 monthly listeners, it's proving to have a positive impact on the market through educating their clients and the wider renewables community.
Spencer Ogden's charity partnerships and podcast are just a few examples of how they make sustainability an integral part of their business practice. Sustainability is a continued commitment for Spencer Ogden, and this accolade echos their wider focus on supporting the energy transition as part of their market leading renewable energy recruitment division.
"We are proud to reward and recognise Spencer Ogden for their sustainability efforts," said Maria Jimenez, Chief Nominations Officer, Business Intelligence Group. "It was clear to our judges that their vision and strategy will continue to deliver results toward a cleaner, more sustainable world. Congratulations!"