Spencer Ogden are proud to announce they have won 3 Top Workplace Awards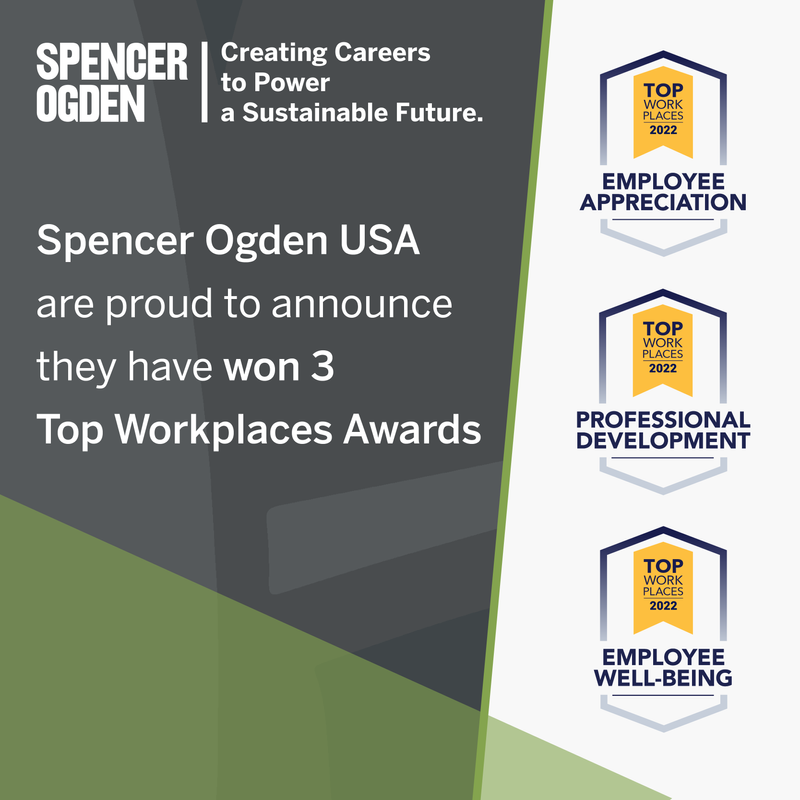 ​Spencer Ogden USA, global recruitment experts who are working towards creating careers to power a sustainable future have been awarded the following three awards:
Top Workplaces for Employee Appreciation

Top Workplaces Employee Well-being

Top Workplaces Professional Development
Top Workplaces is the USA's leading employer recognition program that has been recognizing companies since 2006. Spencer Ogden worked with Top Workplaces to survey their employees in the five USA office locations, Houston, Orlando, Denver, New York, and Chicago to find out their opinions on the culture and what it's like to be an employee at Spencer Ogden.
Spencer Ogden was recognized for their high scores and feedback in relation to its leadership and development programs. When employees were asked to provide feedback on the culture some recurring keywords included fun, inclusive, collaborative, and positive.
Further cultural feedback from Spencer Ogden employees included the following:
"It's a good and growing company, anyone would be lucky to have employment with SO"
"I would recommend working at Spencer Ogden because I feel that I am able to have the perfect life/work balance, while my leaders are motivating me and helping me through every situation I face"
"The culture fits all different types of personalities, and everyone really wants the best for you"
"I get the opportunity to help candidates and clients while working in an impactful industry. I feel I have the opportunity to run my own mini business within Spencer Ogden."
"I get to grow and build businesses while working in a market (sustainability) that I am personally highly passionate about. I have the opportunity to drive my career forward and achieve rewards that allow me to build future wealth"
Henry De Lusignan, Regional Director at Spencer Ogden North America said, "It's great to be recognised by Top Workplaces for these three awards. Our people and our culture are what we at Spencer Ogden pay a lot of attention to. We understand that our success is down to our people, so it's important we create an environment where people want to and enjoy coming to work."