Spencer Ogden recognised for its corporate purpose at the International CSR Excellence Awards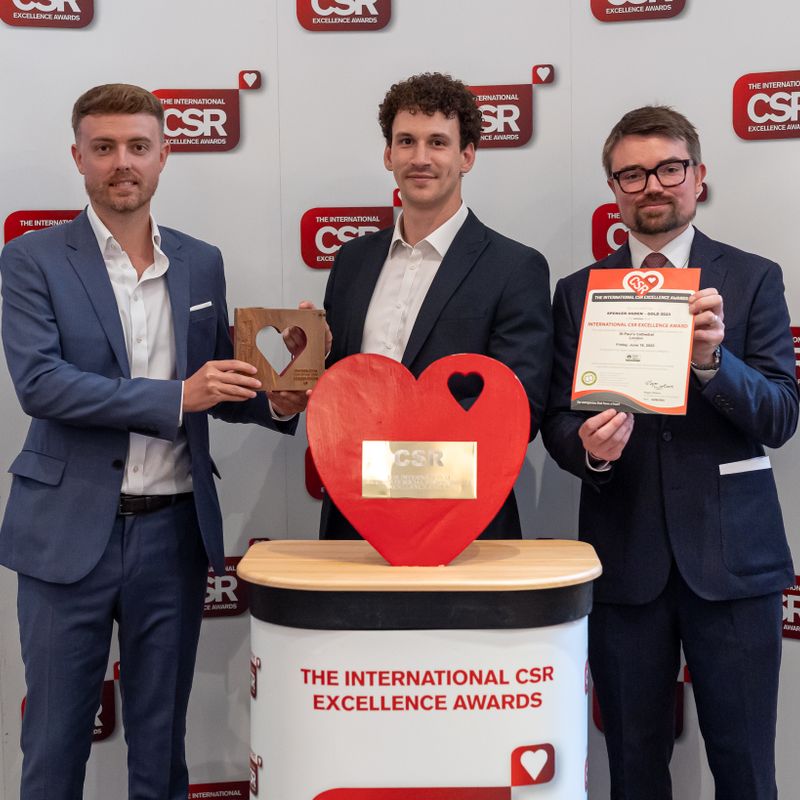 ​On the 24th of March, we were named winners at the International CSR Excellence Awards. We were recognised for our continued focus on CSR and charitable giving in tandem with our corporate purpose - 'Creating Careers to Power a Sustainable Future'. At Spencer Ogden, we endeavour to create a workforce which supports the energy transition while contributing positively towards the local communities in which we live and work.
​
This is demonstrated through our ongoing commitment to diversity and inclusion embedded in our culture, our integrated partnerships with environmental charities and continuous work behind the scenes by our sustainability team championing internal initiatives and putting processes in place to make our business operations greener.
​
What we've been recognised for…
​
​Our Charity Partnerships
​We currently partner with two charities, Seven Clean Seas, and Cool Earth, both of which are working towards creating a better future – on land and in our oceans. Through our initiative with Seven Clean Seas, we have committed to removing 1kg of plastic from our oceans for every placement made at Spencer Ogden globally. Our partnership with Cool Earth is driven by our internal employee recognition scheme, in line with our company values; PACE (People, Accountability, Collaboration and Excellence). This encourages our employees to praise each other for their hard work and demonstrating our values. For every recognition made, £3 is donated to Cool Earth.
​
ED&I
Equity, Diversity, and Inclusion is central to our culture and work practices, embedded in our hiring process and intrinsic to our award-winning learning & development offering. Each year, we produce a detailed ED&I report which documents our progress and looks at how we can improve. In 2020, we launched our ED&I board, made up of colleagues from around the business who collaborate to drive change in this area. Chief People Officer, Donna Ramshaw leads this committee and is also a member of the APSCo Embrace Steering Committee which helps members start or continue their journey to become more diverse and inclusive.
​
Programme One
​In 2021, we joined forces with seven other recruitment agencies to launch Programme One. This initiative works to remove barriers to entering the recruitment industry for underrepresented, Black and minority local communities through a mentorship programme of which are people are actively involved with.
​
​"Our continuous efforts towards improving our approach to CSR within Spencer Ogden is hugely important to us and has been a significant focus over the past 18 months with the formation of a formal sustainability function within the organisation. We have aligned our approach to sustainability with the focus of the industries we operate within and through this have seen an increased engagement by our employees, clients, and wider stakeholders. We will continue to grow and widen our CSR initiatives and hope for continued success in the years to come."

​

Naomi Smith, Group Head of Business Operations and Sustainability
​
Giving Back
​All Spencer Ogden employees are provided with four paid volunteering days per year to enable them to support their individual passion areas in addition to our own charity partnerships. As a business we hold fundraisers for various global causes in which Spencer Ogden pledge to match employee donations.
​
​The Environment
​We are working to transition all energy tariffs in our control to green tariffs alternatively, we commit to purchase Renewable Energy Certificates (RECs) where we cannot control certain energy contracts. This is part of our commitment to achieve science-based emissions reduction targets in line with commitment to the Carbon Net Zero target (+1.5°C).
​
Finally, we have partnered with Power X in our APAC region to develop a pioneering vessel for offshore wind projects, transporting electricity from windfarms to shore via a large-scale battery packing facility, helping to make the distribution of renewable energy more stable. Since our inception in 2010, our business has continued to have a positive impact on our candidates and clients in parallel with our own journey to success. However, we understand that it is equally important for us to have a positive impact on the natural environment and wider society in which we work and live
​
​The CSR Awards
​We collected our trophy at the official CSR awards ceremony, which was held on Friday June 16th, in one of London's most iconic landmarks, St Paul's Cathedral. The annual CSR Awards celebrate responsible, caring companies who are in a privileged position to be able to help those who depend on them for their livelihoods, and others less fortunate.
​Click here for more about the Awards ceremony: