Charity Spotlight: The Salvation Army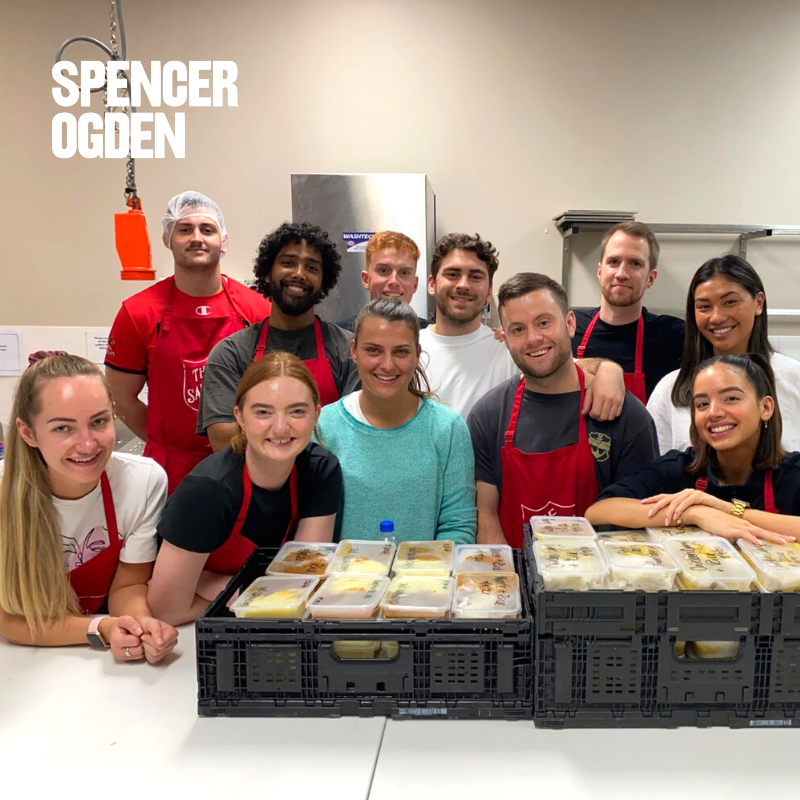 Last week saw 12 employees from our Perth office spend the morning at The Salvation Army, cooking meals to be given to people who have found themselves homeless in Perth. ​The Salvation Army is an International Christian church and charity that help some of the most vulnerable people within society. They are recognised as one of the world's largest providers of social help, operating in 132 countries. The work they do is varied, from providing refugee assistance, to helping children's homes, homeless and domestic violence shelters and hospitals.
At Spencer Ogden we believe in making a difference by giving something back to the community. Each of our employees receive 4 paid volunteering days a year, which they can use to support a charity of their choice. We asked one of our consultants, Sophie Park to share her thoughts on the experience.
Why did you choose the Salvation Army?
At the end of last year Maggie Ritikis (Team Leader) ran a Christmas food drive through the Salvation Army, where the Perth office donated canned goods to be distributed to those less fortunate. Then last quarter, Michael Ho (Senior Recruitment Consultant) and Maggie ran a brainstorming session on what charity work we would like to do as an office. Getting involved in a soup kitchen won the vote by a landslide! Walking through the city every day, we're all too aware of the high level of homelessness and felt that this was a cause worth supporting. Gabby Bernedo (Recruitment Consultant) took the reins, reached out to the Salvation Army and organised the whole office into 2 days of volunteering. Big shoutout to Gabby for dealing with the logistics!
Why is it so important for each of us to volunteer?
Following on from Perth's PeakOn survey results and discussions, we were able to identify making a positive difference as the key area we wanted to work on as an office. At SO, we are privileged enough to have approved charity days where we can use time within working hours to volunteer. However, we found the majority of people in the office were not utilising these days at all! As well as having an obligation to give back to the community, there are also many health and wellbeing benefits that can be gained from volunteering.
What did you take away from the day?
Firstly, I took away how much hard work goes into the behind the scenes for charities. Charities like the Salvation Army depend on people to volunteer their time/ definitely need people to step up to the plate to get the huge amount of work done. Secondly, it was amazing to see the team come together with a common cause, and it was a great team bonding experience. Thirdly, we found out James Holden is a terrible cook and should never be trusted with a pot of mincemeat every again!