Ali Skeats: Empowering Indigenous Communities and Preserving Biodiversity. A Conversation with our Impact Partner, Cool Earth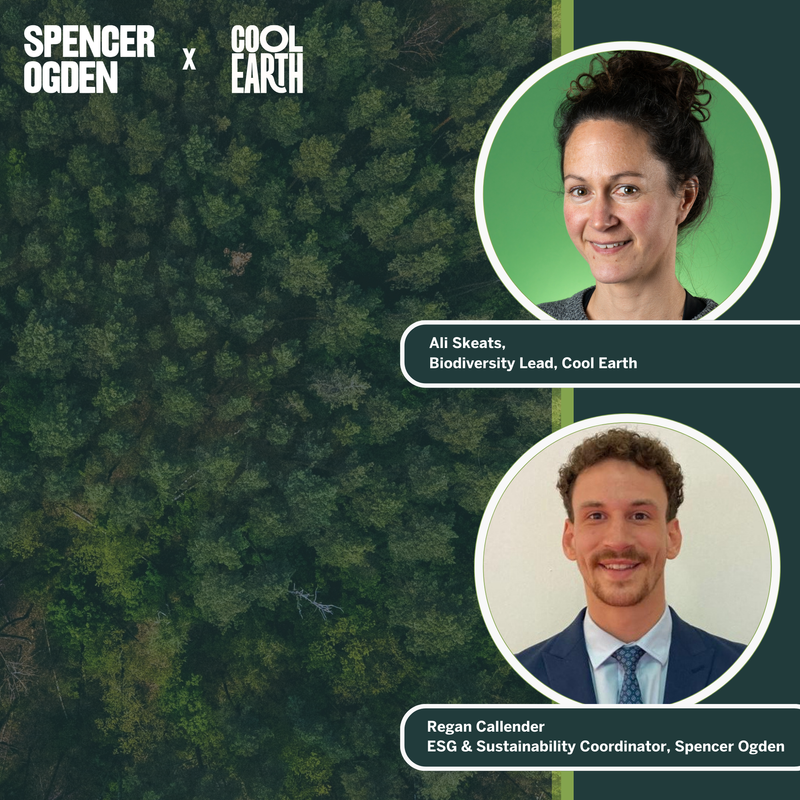 ​We caught up with Ali Skeats, Biodiversity lead at our Charity Partner Cool Earth. Cool Earth works to bring together Indigenous people and their rights to forest and land while taking in to account the climate crisis, recognising that both biodiversity and social aspects have a huge impact when it comes to fighting climate change.
​
Spencer Ogden support Cool Earth through our internal peer recognition scheme which is based on our values. For every recognition given between colleagues, Spencer Ogden pledge to donate £3 to Cool Earth! Ali chats to our Sustainability & ESG Coordinator Regan Callender to unpack why corporate partnerships like this makes a difference to the great work they do.
​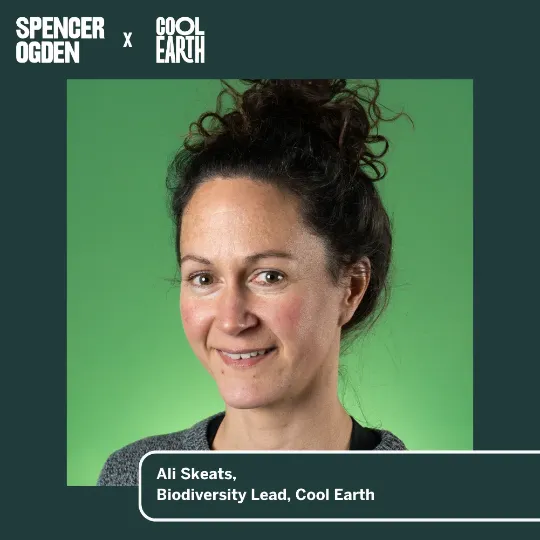 ​
​What would you say is Cool Earth's main goal?
Our vision is to support Indigenous people and protect rainforests from the climate crisis at the same time. In our essence, Cool Earth saw a problem which was the exploitation and poverty of indigenous people, which in turn led to the destruction of rainforests. An immediate solution that we saw with this, was to supply money to local people so that they would not have to sell their trees to loggers. This all started in Peru where people were being pressured to sell their trees for timber to survive. The support we offer has since evolved; Our reason for being is to provide unconditional resources to people to help them meet their needs. Lands under indigenous ownership experience less deforestation than others, hence we know that by supporting indigenous communities, we are meeting our goal of forest protection.
​
​How do partners like Spencer Ogden support Cool Earth and the communities you work within?
Something that's beneficial to Cool Earth is the unconditional donations we receive from corporate partners like Spencer Ogden. The fact that these donations are continuous, allow us to be flexible with where we choose to channel these donations, allowing us to respond to the needs of people and individual purposes and for that to change as communities and needs evolve.
​
​How does Cool Earth empower farmers to negotiate powerfully on their produce?
We work with some of the national agricultural bodies. In Papua New Guinea, for example, we are working with the Coconut Corporation, networking the coconut producers up with markets where they can negotiate their trade prices. Farmers can get teaching from those companies where needed. There's a range of skills that come with that such as product development, market access and increasing crop yield.At the moment, coconut, cocoa, coffee and sweet potato are the main crops our farmers produce in this region.
​
​How does Cool Earth make sure there is support for local people on the ground? (Are there representatives within PNG & other locations?)
We have senior members of staff who make those culturally appropriate decisions. We also recruit within the partnership communities that we work within, so the people who live in villages and are residents there. This ensures that we have people on the ground, from those communities, who can represent us and ensure the organisational aims trickle down fairly.
​
​What has been your/the teams most exciting project to date and why?
I would say it's the education work that we do in Papua New Guinea. We have a very small cohort of adult students who live very far away from any school. Most people within this community have dropped out after primary, due to having to travel hours to the secondary school. They have made it to adulthood with limited education and as a result this has affected their ability to access healthcare and income opportunities. Within this project, we start by teaching very basic life skills from public speaking to how to manage family finances. Then we collaborated with a flexible open distance education organisation, abit like 'open university' in the UK. They have incredible experience working with very remote communities to deliver the national curriculum over two years.
This project started in 2018 when I first joined. It's an eight-year project that just builds every year. The students are so committed and many are now moving into income generation projects. By the end of this, the students will be educated to A-level equivalent. I think it's the testimonials from students on graduation day that really motivate me within the work that I do.
​
​Why Cool Earth and what inspires you about your work?  
I think Cool Earth's holistic approach of people, biodiversity, climate, is the future of a better world for everybody. I believe that addressing any of those in isolation, won't have a fair impact. Cool Earth recognises the rights of indigenous people. This sets us apart from organisations who perhaps only focus on the climate. I like that we are dynamic and flexible as an organisation. We are able to react to environmental events such as fires in Peru and can bring on specific partners who provide direct aid to those communities quite quickly.
​
​What can company like Spencer Ogden do to further aid the rainforest communities you support?
The promotion of Cool Earth within your workplace and to employees can really make a difference. We are always seeking more following on social media. We are still a small charity, but we are growing. The bigger we can get in public sphere, the better, so we really encourage, keeping Cool Earth within discussions in the workplace. Beyond that, it's just a general rhetoric around support for indigenous communities in the environmental fight and to make sure that messaging doesn't get lost!
​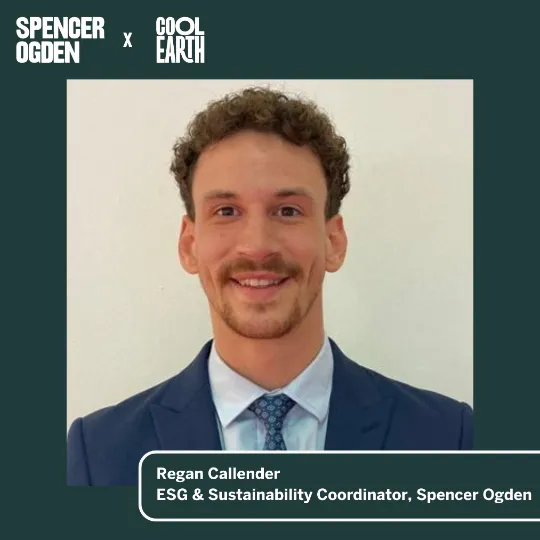 ​
Spencer Ogden's ESG & Sustainability Coordinator, Regan Callender, shares his thoughts on Spencer Ogden's partnership with Cool Earth, amplifying how Spencer Ogden employees help to drive this charitable action, creating a mutually beneficial partnership for both Cool Earth and Spencer Ogden.
​
What drew Spencer Ogden to Cool Earth initially and what about Cool Earth drives you to continue your partnership?
I think it's the combination of social and environmental goals, one leading naturally to support the other. Our Modus Operandi as a business is supporting the renewable energy transition through our work, to halt the climate crisis and ultimately support the reduction of carbon emissions. We can do this by safeguarding the world's most fruitful areas where carbon storage takes place, like the rainforest. We are also a business that really care about people and social issues. With the projects Ali has just mentioned, that we've been able to support, it is important to us that we are able to help provide autonomy and dignity to the people in those rainforest communities alongside fighting the climate crisis.
​
​Why do you incorporate charitable giving into your ESG strategy? 
We want to align what we do internally, socially as a business to also have an external impact. As Ali mentioned, these donations are unconditional, and we have set targets this year to increase those recognitions. We want people to recognise each other and the great work that we are doing internally but we also want that work to develop outside of the business. By tying our internal peer recognition scheme into our charitable donations, we give our employees a real stake hold in what we are doing to support external charities like Cool Earth.
​
​Read more about our partnership with Cool Earth here.