The SOapBox Series | Season 1 Episode 6: Growing a Business in Renewables the Right Way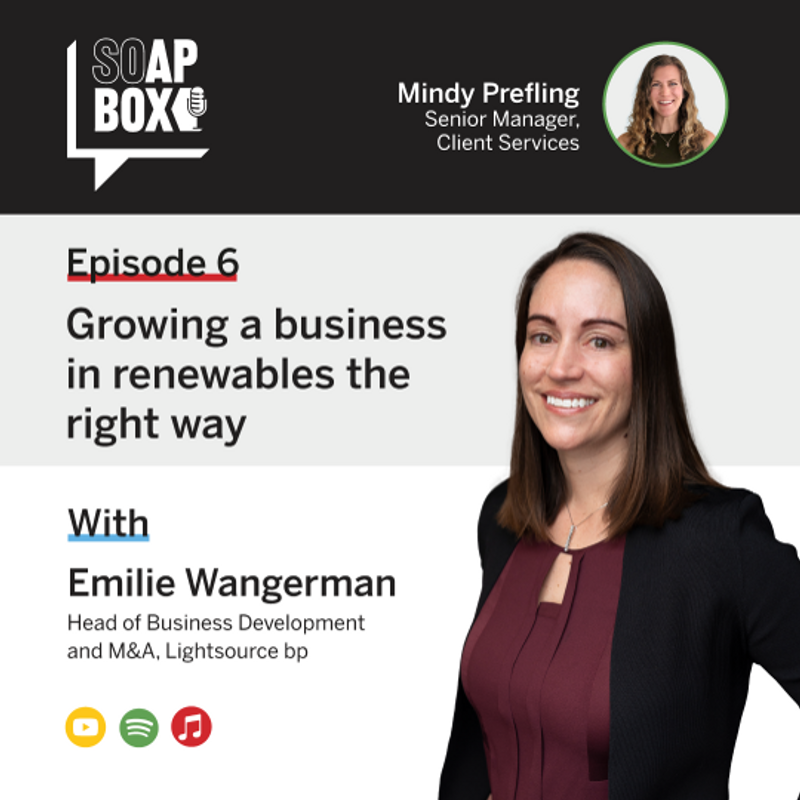 ​
​
​New podcasts will be launched every 2 weeks, check out our dedicated podcast page to view them all.
​
​In episode six 'Growing a Business in Renewables the Right Way' Senior Manager of Client Services at Spencer Ogden, Mindy Prefling, speaks to Emilie Wangerman, Head of Business Development and M&A at Lightsource bp.
Emilie and Mindy discuss diversity in renewables and whether we've come far enough, how to go about improving diversity in organizations in the sector, when to use your connections and how, and how Lightsource bp hires and retains their top talent.
​
​Always use your connections when looking for your next career move
​[Timestamp: 15:32 - 16:21]
​Emilie: People say "Use your network, as you're considering your next steps." I really did - I reached out to my entire network, I reached out to friends, I reached out to my extended network. And I was just starting to think about where I wanted to go. I mention this, because just getting in the door is often the hardest thing. If you're looking to do a career switch, or you're looking to do an industry switch, using people - even if they're remote or they're the third person on your list, but you can get connected by that other person - that will help you start that conversation. And you can get a little bit farther ahead than just straight trying to go in cold and interview because you really want them to know you. And you can do some prep work by talking to people and understanding it.
​
​Is the renewables industry diverse enough?
​[Timestamp: 49:26 - 50:32]
​Emilie: You can find a company or help shape a company that makes you feel like you are not the only one that's different, that everybody's a little different in that room and therefore it brings something to the table. Now when I am in that situation, I sit there and I'm like, "I'm gonna change this because this isn't working for me." It's nice to be at that level where you can say, "No, I'm not okay with this", and I'm going to say, "I'm not okay with this", and I'm going to advocate because I guarantee I'm not the first person to think this - I might be the first person that's now comfortable saying it, and I didn't used to be comfortable speaking up, but I am now probably too comfortable saying, "You know what, we need to change, and here's why we need to change." And I'm happy to be a part of finding that solution to make a change. I'm not just sitting back and blaming and saying there's a problem, I'm saying, "let's, let's find a solution, and I'll be part of it, I'll be a part of finding that right fit and fixing this problem", because it's more fun to be in a group of people that are more welcoming. That's the true definition of inclusivity.
​
​How do you promote employee retention in your organization?
​[Timestamp: 39:58 - 40:53]
​Emilie: How can we also make sure we're retaining our employees? We're doing that monetarily, but also through giving them opportunities to grow and getting more clear career paths and career trajectories. And saying, "Okay, do you want to go on the technical ladder? Do you want to continue to be an individual contributor? Or do you want to be more in the manager role - let's get you some management training." We've introduced a program that I participated in called "Brilliant Leaders", which has been really great, because it's giving the leadership direct experience. So they're going through training, but then also on-the-job training as well when you actually take a project. It's almost like a mini business school degree, and I went to business school, but it's fun to be around your colleagues getting that same experience as well.
​